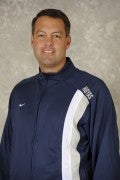 We held our end of year banquet last week to celebrate our five seniors, and reflect on the 2014 season as we look ahead to the 2015 season. We handed out our major team awards which went to senior Austin Martz (Most Improved), sophomore Joshua Yaro (MVP), and senior Tyler Rudy (Ricardo Mendoza Award – given to the player that most embodies what Georgetown Soccer is all about). The five member senior class of Tomas Gomez, Austin Martz, Jared Rist, Tyler Rudy, and Tom Skelly will leave the Hilltop with some impressive accomplishments. They accumulated an overall record of 57-18-14, which are the most wins and fewest losses of any four year group going through the program. They made the BIG EAST Tournament all four years, won the BIG EAST regular season title twice, and advanced to the NCAA Sweet 16, the NCAA Elite 8, and the NCAA National Final. They were a pleasure for me to coach, and they set a high bar for those that will follow in the years ahead! It was bitter sweet that two of the seniors were unable to attend the banquet: Tomas Gomez is currently signed with the San Jose Earthquakes and Tyler Rudy is currently signed with the New England Revolution. They were celebrated by their teammates, and I couldn't be prouder of both them that they are both striving for their professional soccer dreams, while carrying a Georgetown degree in their back pockets.
As we look forward to the 2015 season with anticipation, we will be led by an entirely new group. Four captains were selected by their peers in seniors Keegan Rosenberry, Cole Seiler and Josh Turnley, along with junior Joshua Yaro. That core of captains will be well supported by seniors Brandon Allen, Melvin Snoh and David Witkoff. It's a very strong group, and I have high hopes that they maintain an equally strong grip on the wheel as we navigate another challenging fall schedule that includes non-conference matches against Florida Gulf Coast, South Florida, Akron, UCLA, Radford, VCU, West Virginia and Maryland. I can't wait!
Enjoy the start to summer, and Go Hoyas!