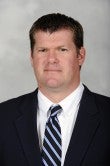 We have finally reached spring with some great weather as we head down the homestretch of our season!  I wanted to reach out to everyone before this weekend to give you a recap of the past few weeks…
The Villanova game was probably our most complete team effort of the year.  We were extrmely efficient on offense – seniors Reilly O'Connor and Bo Stafford each finished the game with 6 points and freshmen Craig Berge and Stephen Quinzi each had four. Nick Marrocco made 18 saves in the win that moved us to 3-1 in BIG EAST play. After a three week stretch of of BIG EAST opponents, we traveled to Charlottesville to play Virginia at Klockner Stadium, maybe the nicest venue in college lacrosse.  It was 80 degrees and their senior day, which made for an awesome atmospehere. We raced out to a 3-0 lead, but Virginia fought back and went on a run that we couldn't overcome. Bo Stafford and Devon Lewis each had 3 goals in the loss.
This past weekend, we honored our 10 seniors (8 four year players and 2 graduate students) –  Bo Stafford, Reilly O'Connor, Charlie McCormick, Bryson Craft, Bill Flatley, Bryson Greene, Mitch Hugdahl, Joe Bucci, Gabe Mendola and Anthony Heaton – before the game. Our team is unique in that every one of these seniors, with the exception of those who have an injury, sees action on gameday.  I believe that experience has helped us throughout the highs and low of the season and is something we will lean on as we move forward.
As for the game, Bo Stafford had another four goal outing and we held off a pesky St. John's team for the win. It was fitting that our captains Bo, Reilly and Joe each scored our last few goals to seal the victory.
The BIG EAST Awards were announced this week as well (here is the link to the BIG EAST release).  We're very proud of the guys that were honored!  Although they are deserving of the recognition, they all recognize that the contributions of their teammates contributed toward their personal success.
Well it's "bonus time" versus Marquette today!  Our BIG EAST Semifinal game starts at 4:30 p.m. at Villanova Stadium (you can watch on the BIG EAST Digital Network).  While I cannot predict the outcome of the game, the one thing I know for certain is that our team will compete extremely hard.  We beat Marquette 10-9 earlier this year so I am sure we will be facing a motivated group.  Our challenge is to execute our plan without getting caught up in the emotion of the game.