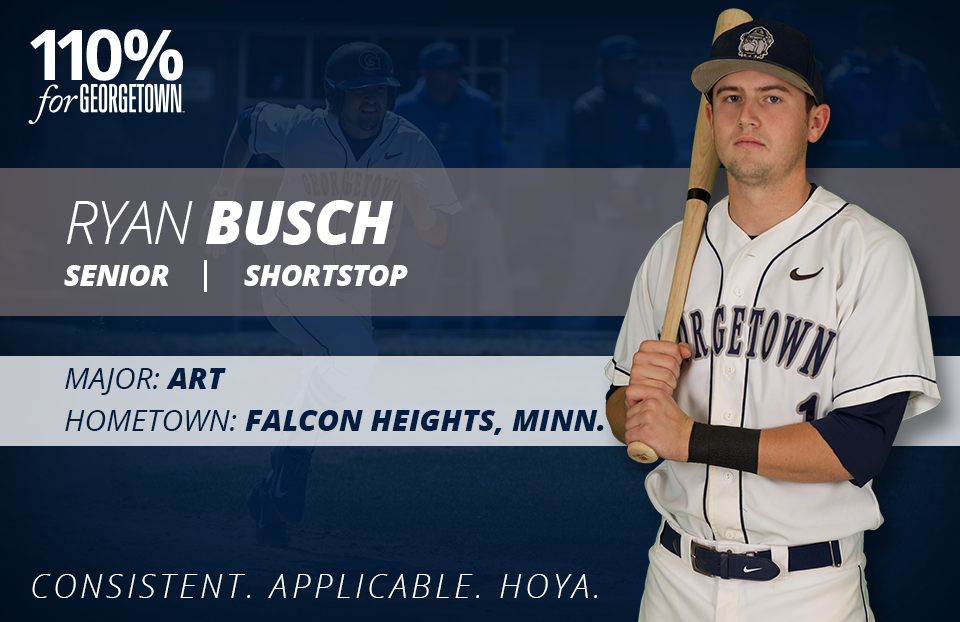 As a senior captain, Ryan Busch has helped propel Georgetown Baseball to 18 wins on the season, in the heart of the BIG EAST Conference schedule. In the 2015 season, Ryan has 35 hits and has scored 28 runs (3 home runs), while tallying 15 RBIs. An art major at Georgetown, Ryan was also named to the Capital One Academic All-District First Team, as well as being an Academic All-BIG EAST selection in the 2013-14 academic year. 
What is your most memorable moment at Georgetown?
My most memorable moment has been beating UConn's Friday starter during my sophomore year. I had a home run and our team played the best game of our season.
What is a game day routine you have? 
I like to wake up on home game days and order a Wisemiller's sandwich and a drink. When I walk to the locker room, I am always playing a song that gets me motivated.
How do you give 110% for Georgetown?
Being a leader means being an example, so committing yourself to doing the hard jobs and communicating with your team.
What made you choose to come to Georgetown?
Being from Minnesota, the lure of East Coast culture and a desire to escape caused me to come to Georgetown.
What does "Together, We Are Georgetown" mean to you?
The student-athletes, as well as every other student, are the driving force of our culture and is the most important representation of who we are. So, believe in your peers and community.
Hoya Facts with Ryan Busch
My favorite class at Georgetown: Studio Art
If I could vacation anywhere, I would go to: The Caribbean
My favorite tourist activity to do in DC is: Ride bikes to all the monuments
My favorite thing about Coach Pete Wilk is: He's got your back in every aspect of life
The most interesting person I have met at Georgetown is: Dean D'Ambrosio
My best sport other than baseball is: Hockey
My favorite place to eat in Georgetown is: The Tombs and Wisey's
The team I look forward to playing most is: Butler (my little brother plays for Butler)
The teammate that makes me laugh the most is: Matt Hollenbeck
My teammates would be surprised to know that I: Played goalie in soccer
My hardest class at Georgetown: Art History of Zen Buddhism