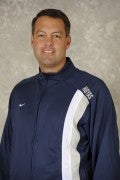 Usually when a team comes to the bench for the five minutes between the end of regulation and the start of overtime, the players are tired and relatively quiet. Tied 1-1 against Syracuse in the NCAA Sweet 16, our boys had a distinctly different vibe. It was two of our seniors, Tyler Rudy and Jared Rist, who were adamant with their teammates, saying "We are not losing this game!". Those same two seniors hooked up four minutes into the overtime period to send their teammates into the Elite 8 for the second time in three years. For the second NCAA tournament game in a row, we found ourselves down 1-0 with time ticking away. The capacity crowd, who pushed the boys on all game long, saw junior Keegan Rosenberry rise up on a corner kick, and bury a header to equalize with only ten minutes to play. The swing in momentum gave us new life, and set the stage for the senior heroics in overtime. Rist headed in the game winner for his first career goal, sparking a raucous celebration on Shaw Field.It was truly a great college soccer game, and Syracuse was one of the best sides we have seen in a long time. I couldn't be prouder of the boys, and I'm thrilled to have another week with them. Highlights from the win over Syracuse can be seen by clicking here.
We have the good fortune of being able to host the NCAA Quarterfinal this Saturday at 1 p.m. The Virginia Cavaliers, one of the most storied men's soccer programs, will be coming to the Hilltop after beating the #1 overall seed, Notre Dame, in South Bend. Update: The game is sold out to the general public.  Student tickets are still available at the gate with a valid Georgetown student ID.
We hope to see everyone who can make it up on Shaw Field on Saturday, and hope the stands are bursting at the seams. If you can't make it, be sure to get online in case it's yet another classic!I'll let you know how things go against Virginia, and Go Hoyas!