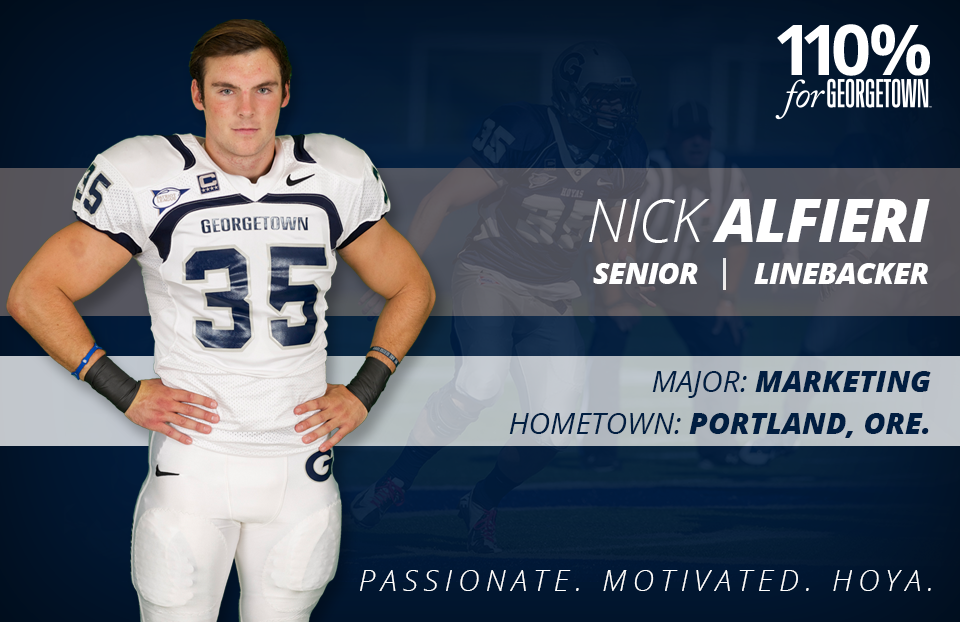 Senior Captain Nick Alfieri is set to play his final home game on the Hilltop on Saturday vs. Holy Cross and will do so having left a legacy on and off the field. The 2014 Joe Eacobacci No. 35 Memorial Jersey recipient, Alfieri became just the third Hoya to eclipse 300 career tackles. He is third in program history with 322 tackles, trailing only Robert McCabe (407) and Nick Parrish (349), the 2010 No. 35 jersey recipient. Currently he leads the Patriot League in tackles and has been named Patriot League Defensive Player of the Week twice in 2014. 
What is your most memorable moment in your playing career at Georgetown?
My most memorable moment has got to be beating Holy Cross in the snow as a freshman. We were in the midst of one of Georgetown football's best seasons and that win sealed our chance at playing for the league title. It was a huge win in a great environment that I'll never forget.
What is a game day routine that you have away games?
Away games are a blast. Having a great dinner with my best friends in the hotel the night before the game starts off my routine. After dinner, I head back to my room and watch a movie on Netflix with a football game playing on the TV in the background. It helps me clear my head of any distractions and gets me ready for the game the next day.
Do you do any volunteer work?
I have been involved with our team's Friends of Jaclyn program, helping make videos for our adoptees' (Elijah and Jackson) birthdays and other events. Those two kids are such an inspiration for our team and I love having them around. I've also done some work with D.C. Reads.
How do you give 110% for Georgetown?
I give 110% for Georgetown by playing my hardest all the time and trying to be the best person that I can be, on and off the field.
What would you like to say to donors to The Annual Fund for Georgetown Athletics?
I cannot thank you enough for your donations that allow me to play my favorite sport at my dream school!
Hoya Facts with Nick Alfieri
My teammates would be surprised to know that I: Can play the piano
My best sport other than football is: Tennis
My teammate who makes me laugh most is: Leo Loughrey
My most cherished possession is: A Batman hat that my brother gave me
My favorite places to eat in Georgetown are: The Tombs and Thunderburger
My favorite class at Georgetown has been: Narrative Filmmaking
My favorite thing about Coach Sgarlata is: His passion for his players and our program