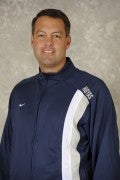 We opened up BIG EAST play on Saturday against a quality Butler Bulldog team in Indianapolis, and came away with a 2-0 win. The Butler Bowl isn't an easy place to play, but the boys settled into the game nicely after about fifteen minutes. Freshman Arun Basuljevic made his first start of the season, and did a great job alongside senior Tyler Rudy to control the tempo of the game in the middle of the park. Despite a 21 to seven shot advantage, and a lot of blocked shots, the score remained tied at 0-0 going into the last fifteen minutes of the match.
It would be senior defender Jared Rist, making his first start of the season, who put the team on his back in the vital moments of the game. Rist played a clever ball in behind the Bulldog defense to spring junior forward Brandon Allen, earning the Hoyas our first penalty kick of the season. Allen tucked away the penalty give us the lead with just eleven minutes remaining. Rist tidied things up on the other end of the field when the best chance of the game for Butler asked him to clear a shot off the goal line to preserve the shutout. Allen put the game out reach with just over a minute to play after receiving a feed from sophomore Alex Muyl. Allen deposited the ball through the legs of the goalkeeper for his league-leading seventh goal of the season.
The Butler game highlights can be seen by clicking here.
The Maryland Terrapins are up next on Tuesday night in a rematch of the 2012 College Cup classic that ended in a 4-4 tie. It's always fun to play the Terrapins in College Park, and this game will be one that the boys will be looking forward to. That game can be seen online via the Big Ten Network 2 Go.
The Week Behind: at Butler, 2-0 win
The Week Ahead: 
Tuesday, September 30 at Maryland 7:00 p.m.
Saturday, October 4 vs. Marquette 1:00 p.m. (Shaw Field)
I'll let you know how things go against Maryland, and, in the meantime, Go Hoyas!