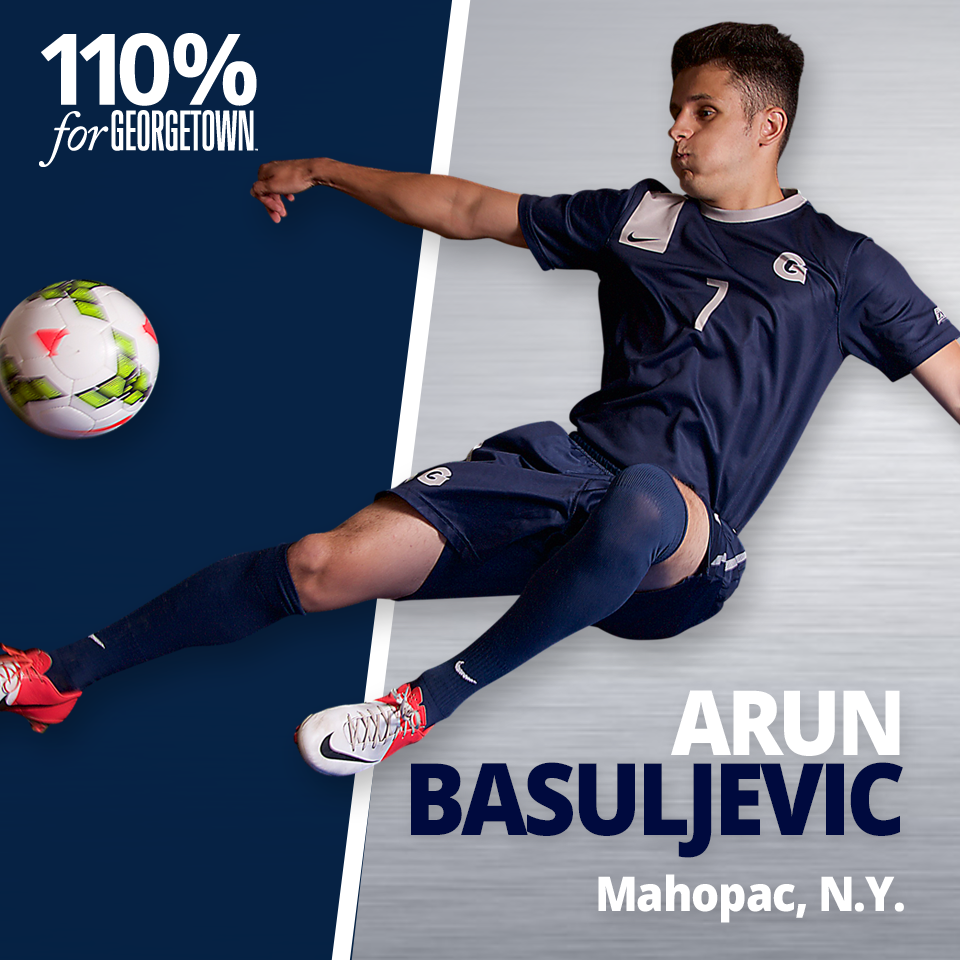 After being named BIG EAST Freshman of the Year in 2014, Arun has followed up with a superb sophomore year as the Hoyas went a perfect 9-0 to win the BIG EAST Regular Season Championship. A 2015 First Team All-BIG EAST honoree, the midfielder was Georgetown's second-leading scorer in conference play with two goals and two assists to his credit for six points as well as two game winners. Overall, Arun is third on the team in scoring with five goals and four assists for 14 points as well as a team-best four game winners on the season. Let's go In the Huddle with Arun!
Why did you choose to attend Georgetown?
I chose Georgetown because our soccer team consistently is one of the top programs in the country and the location around the school is beautiful. Also, it doesn't hurt that it is one of the best academic schools in the nation!
How do you give 110% for Georgetown?
Everyday I try to work as hard as I can for my teammates, myself, and the school because I know what a privilege it is to be here. Also, as a team, we all shave our heads for the St. Baldrick's Foundation to raise awareness for childhood cancer.
What is your favorite Georgetown tradition?
Georgetown Day  – it is an awesome day for the whole school community to get together and celebrate the end of a great year.
What would you like to say to Georgetown Athletics donors?
I can't even begin to explain how much your support means to not only me, but my teammates and peers as well. Thank you for giving us all the opportunity to compete at such a special school and we will do our best to continue to uphold the great reputation of Georgetown Athletics.
Hoya Facts
My Major: Economics
My favorite team experience: Beating Old Dominion in the NCAA Tournament with 6 seconds left on the clock
Something about me that would surprise my teammates: I was a New York state champion in chess
My teammate I admire most: Matt Ledder
If I could be any Georgetown alum, I would be: Bradley Cooper
My favorite TV show is: Game of Thrones
The place most likely to find me on campus is: Leo's
My favorite holiday: New Year's Eve
My favorite class at Georgetown is: Problem of God
My favorite sport other than soccer is: Basketball
My favorite restaurant in Georgetown is: Filomena's