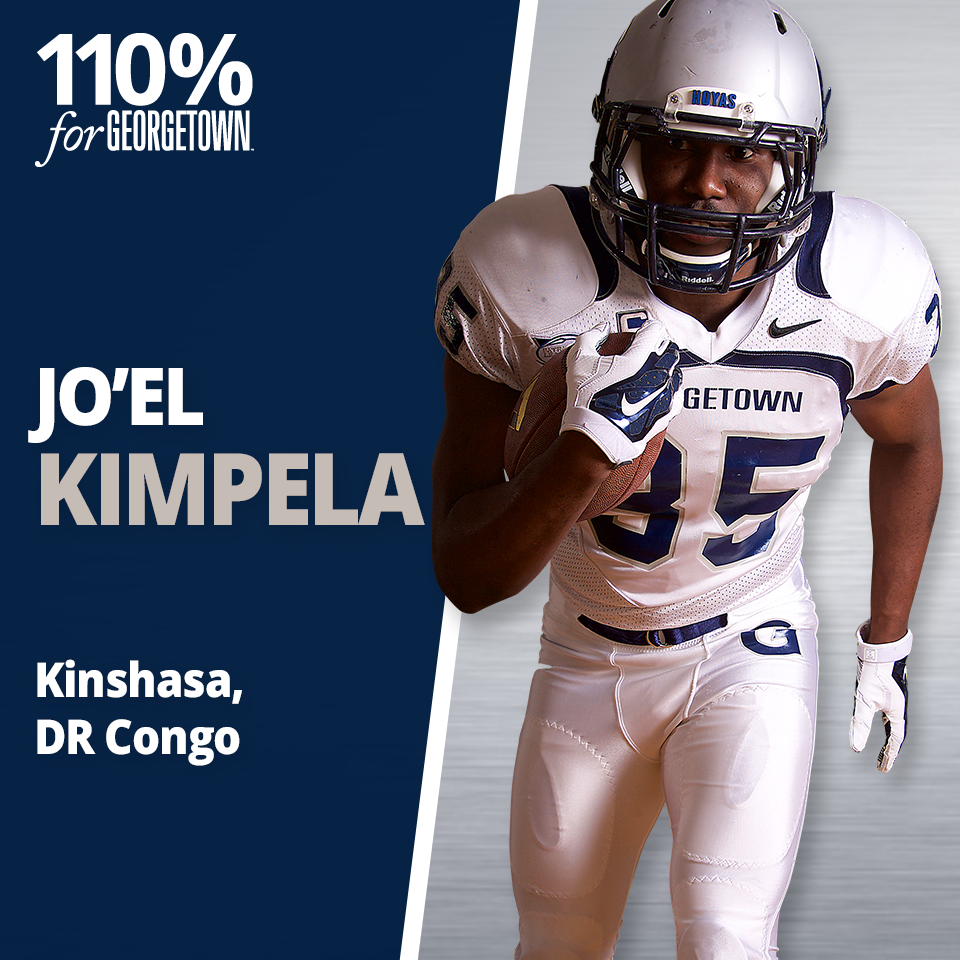 Jo'el Kimpela was selected as the 12th Joe Eacobacci No. 35 Memorial Jersey recipient in the spring leading into his senior year. Eacobacci's No. 35 has been given to a student-athlete who best embodies his spirit and memory after he was lost on September 11, 2001. A Second Team All-Patriot League honoree, Jo'el has been a fixture in the backfield since arriving on campus in 2012. This season, he is averaging over 71 yards per game and 4.9 yards per carry. Let's go In the Huddle with Jo'el!
Why did you choose to attend Georgetown?
I chose Georgetown University because I knew that someday my football career would come to an end, but I knew that I could also have a great degree by attending Georgetown.
What is your favorite team experience?
Most guys on my team know that I am a man of faith, but my favorite team experience was in a game against Lehigh last season where I had little faith. I was on the field with Kyle Nolan and the play call from our coach came in from the sideline. I remember whispering to Kyle just seconds before he was about to snap the ball: "Dang it man, I hate this play, it never works!" and Kyle looked at me and quickly replied: "Come on man, have a little faith." Seconds later, he threw a pass to Jake DeCicco and the Hoyas scored a touchdown.
How are you actively involved in the community?
I am a volunteer for Cross Walk Kids at my Church NCC (National Community Church). On most Sundays, I help create lesson plans for elementary kids and help set the example on how to respect and treat one another.
How do you give 110% for Georgetown?
I give 110% for Georgetown by being committed to Jesuit values. I know what it means to be a man and women for others. Earlier this year, a few of my teammates and I volunteered to set tables in Red Square for FOJ (Friends of Jaclyn), which is a foundation that helps to improve the quality of life for children battling pediatric brain cancer. My teammates and I helped raise awareness for FOJ by passing out flyers to an event that was happening on campus.
What would you like to say to Georgetown Athletics donors?
Thank you very much for your donations! Your donations are what keep our program running and without your help, Georgetown Athletics would not be what it is today. Your donations also inspire me to give back when I have the opportunity to in the future. Be Blessed!
Hoya Facts
My major at Georgetown: Business Management
Something about me that would surprise my teammates: My first name is Matondo, which means "Thank You" in Lingala
My favorite class at Georgetown is: Courage and Moral Leadership (Professor Bies)
My favorite sport other than football is: Basketball
If I could be any Georgetown alum, I would be: Nick Campanella
My favorite TV show is: How I Met Your Mother
My teammate who makes me laugh the most is: Justin Harrell or Mike McFarlane
The place most likely to find me on campus: Leo's
My favorite holiday is: Thanksgiving
My favorite place to eat in Georgetown is: Kitchen #1