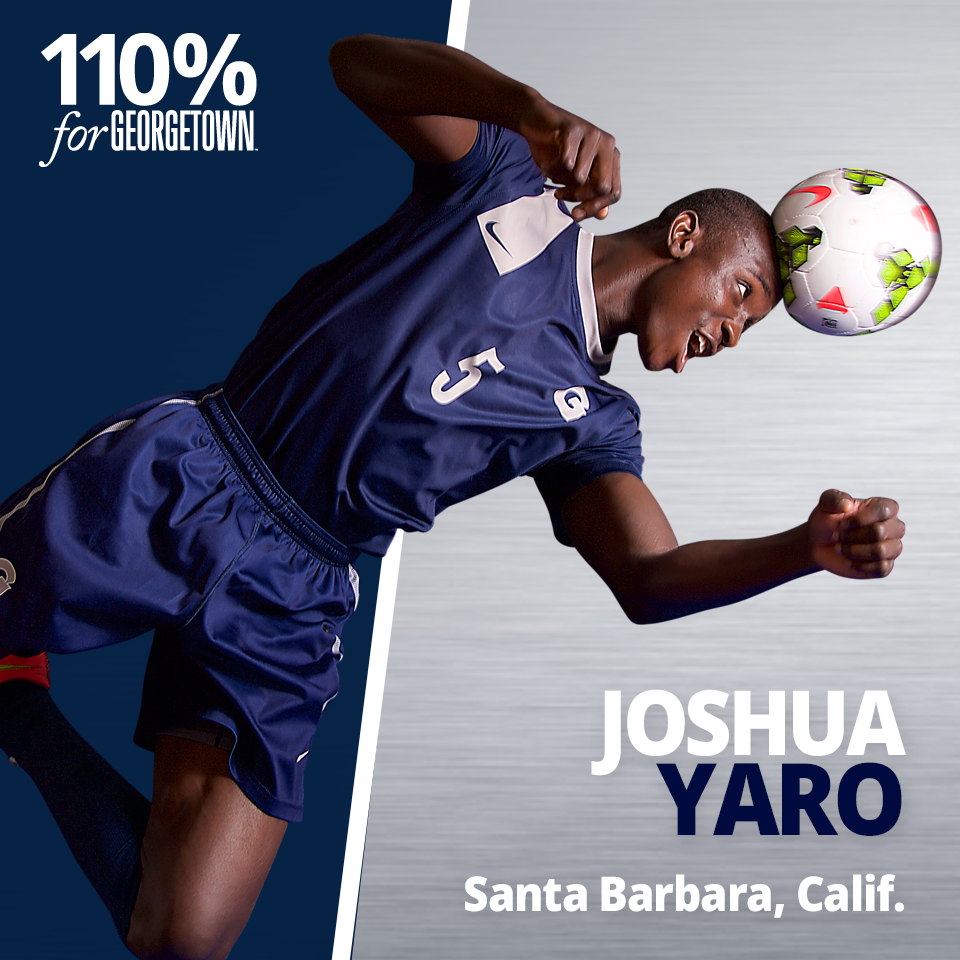 Expected to be a top pick in the MLS SuperDraft, Joshua Yaro has made his mark as one of the all-time greats in program history.  In 2015, Yaro, an NSCAA Second Team All-America honoree, was named the unanimous BIG EAST Defensive Player of the Year and unanimous First Team All-BIG EAST for the second-consecutive year. Off the field, he was named NSCAA First Team Scholar All-America, CoSIDA Academic All-District and was a two-time BIG EAST All-Academic honoree.  Joshua recently signed a Major League Soccer (MLS) Generation adidas contract, which makes him the first Hoya to ever sign a Generation adidas contract. Let's go In the Huddle with Joshua Yaro!
What are your career aspirations?
I would like to play professional soccer for a few years, go to graduate school and then serve in the Ghanaian foreign service as a diplomat. In an ideal world, this is how I would like my life after Georgetown to unfold.
What advice would you give to Georgetown student-athletes?
Do not be afraid to meet new people because it is easy to stay within your own friend group. However, there are so many interesting people of diverse backgrounds at Georgetown. Enjoy every little bit of your time in college!
What would you like to say to donors of Georgetown Athletics?
Thank you for your support, which brought me to Georgetown and has allowed me to have been a part in this soccer program. More importantly, it has allowed me to grow immensely academically, personally and athletically. Without your generous support, Georgetown Athletics would not be what it is today, so thank you!
Hoya Facts with Joshua Yaro
The teammate I admire most is: Cole Seiler because he's always got my back
My favorite TV show is: Entourage
My favorite holiday is: Christmas because it is a time for my family to come together
My favorite quote is: "Hard work beats talent when talent does not work hard."
Something about me that would surprise my teammates: I do not know how to drive
My favorite class at Georgetown: Medical Anthropology
My favorite sport other than soccer is: Track and Field
My favorite place to eat in Georgetown is: Mai Thai
The teammate who makes me laugh the most is: Keegan Rosenberry
My favorite thing about Coach Wiese is: He's caring and thoughtful