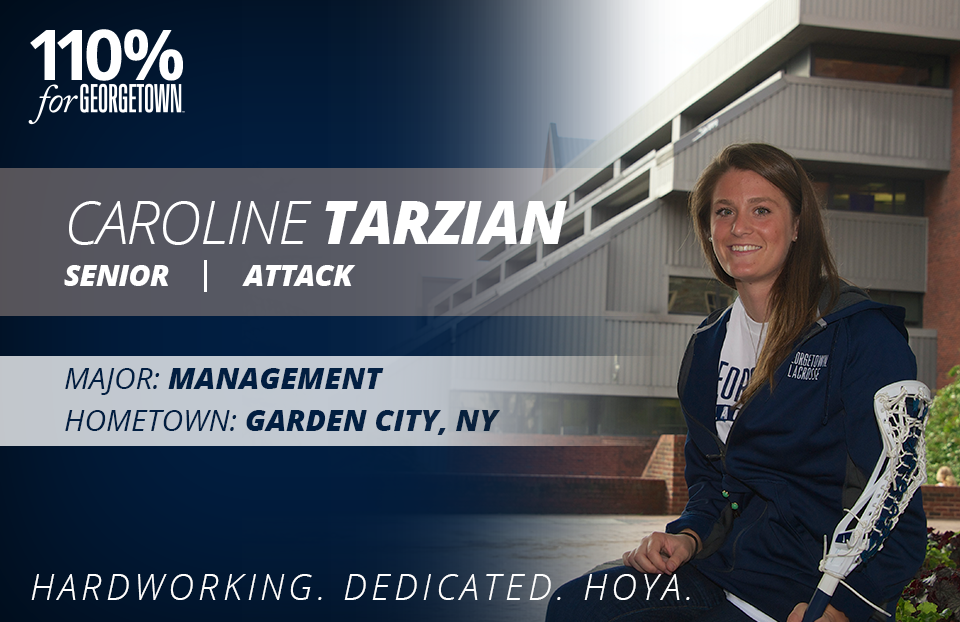 As a senior captain, Caroline Tarzian has made a tremendous impact on the Georgetown Women's Lacrosse team in her four years on the Hilltop. Caroline is a three year All-BIG EAST honoree and currently leads the Hoyas this season in goals (16) and assists (7). In 2014, Caroline started all 20 games for the Hoyas, leading the team in points and assists, while ranking second in goals with 29. Let's go In the Huddle with Caroline!
What is your most memorable moment at Georgetown?
My most memorable moment in my playing career at Georgetown was beating UNC, the second ranked team at the time, during my freshman year. It was in front of a huge crowd on St. Patrick's Day and it truly seemed as thought we had a lot of luck on our side!
What is your favorite interaction with Georgetown alumni?
One of my favorite interactions with alumnae away from Georgetown is a tradition where a former women's lacrosse player chooses a current player and writes them a letter before one of our big games. It's a great reminder of how special it is to put on a Georgetown jersey and represent our school every time we step out onto the field.
How do you give 110% for Georgetown?
This year I was honored to be named a team captain. With this new role, there is certainly extra time I now set aside for meetings and making sure I am connecting with all 31 of my teammates.
What made you choose to come to Georgetown?
The combination of top notch academics and athletics made my decision to come to Georgetown very easy. There is no other school that encompasses such rich tradition in the classroom and on the field.
What does "Together, We Are Georgetown" mean to you?
"Together, We Are Georgetown" means to me that our school's success relies on our ability to support each other. The diversity across our campus makes us stronger as one due to a collective pride in representing our university.
What would you like to say to donors to The Annual Fund for Georgetown Athletics?
Thank you!! Every donation counts and your continued support helps each team to build success. HOYA SAXA!
Hoya Facts with Caroline Tarzian
My favorite class at Georgetown is: Social Responsibility of Business
The most interesting person I have met at Georgetown is: Taylor Price
If I could vacation anywhere, I would go to: Greece
My favorite thing about Coach Ricky Fried is: His priorities – family first, then school, then lacrosse
My greatest strength as a lacrosse player is: Field vision
My best sport other than lacrosse is: Field Hockey
My favorite place to eat in Georgetown/DC is: Dean & Deluca, Sweetgreen & Jetties
The event I look forward to competing in most is: The BIG EAST Tournament
The teammate that makes me laugh the most is: Megan McDonald
My teammates would be surprised to know that I: Took Italian for six years