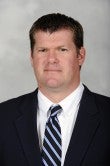 Hope everyone is having a great week!
After coming off a disappointing outing at Denver, we headed up to Rhode Island to take on Providence this past Saturday. I was very pleased with the outcome as the guys grinded out a win over a pesky Friar team 9-6. Nick Marrocco was excellent in the cage with 18 saves. I thought our defense allowed him to see shots that we wanted him to see. Bo Stafford and Stephen Quinzi each had a pair of goals offensively to pace the team. The coaching staff has been very pleased with all of our seniors this year, but Bo Stafford has taken his game to the next level as he plays with urgency like every senior should. We are looking forward to having him lead our offense through the final three games. It was great to see Jack Donahue up at the game as well.
This week, the Wildcats from Villanova come to DC. A familiar face will be roaming the opposite sideline as Brian Samson (B'00) is the defensive coordinator for Villanova. It is a huge BIG EAST Conference game for both teams. This year's senior class has not beaten the Wildcats, so it would be nice to break that trend on Saturday.
Hope to see you all Saturday afternoon!