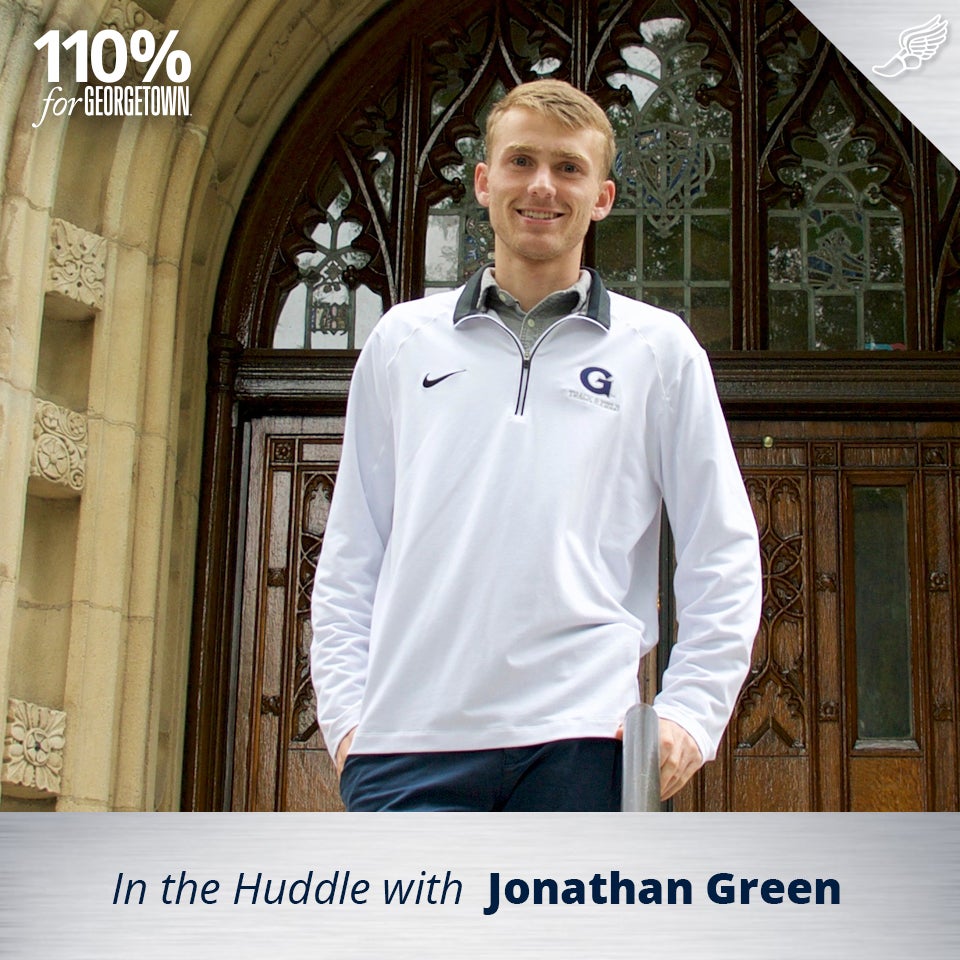 Georgetown Track & Field shined at Distance Night at Penn Relays as senior Jonathan Green won the men's 10,000-meter run! Green, an All-American in the 10,000-meter run, became the first Hoya to win the 10,000-meter title, the 30th installment of the event at Penn Relays dating back to 1978. The win marked the season opener for Green and the 29:26.18 time is better than his 2016 season best. Let's go In the Huddle with Jonathan!
Why did you choose Georgetown? I chose Georgetown for two reasons: first being the rich history of success of the Georgetown Track & Field/Cross Country teams, and second for the academic prowess of the school. The combination of these two make Georgetown the place for me.
What is your favorite team experience? Whenever we compete at a BIG EAST Championship, it's always a favorite experience of mine! Everyone comes together as one team to beat our rivals, and there is nothing quite like knowing 60-70 people are back in the hotel rooms watching you race and cheering you on.
How do you give 110% for Georgetown? I give a 110% commitment to my team anytime I start my watch whether it be for a race, workout, or just a normal run. I am there to support my Hoyas! I also give 110% to my Georgetown Community in whatever way I can help whether that's helping someone fix their bike or volunteering at different community events!
What is your favorite Georgetown experience? My favorite Georgetown experience was getting recognized in front of all my peers last year at the Georgetown vs. Syracuse Basketball game at Verizon Center for winning a BIG EAST team title in Cross Country.
What would you like to say to donors to Georgetown Athletics? I would just like to say thank you! I know my teammates and I could not do it without your help and support!
Hoya Facts with Jonathan Green
If I could be any Georgetown alum, I would be: Bill Clinton
My favorite TV show is: House of Cards
My favorite holiday is: Fourth of July – I like going somewhere fun and watching fireworks with friends
My teammate I admire most is: Spencer Brown because he always keeps things lighthearted before everyone is racing
Something about me that would surprise my teammates: I really enjoy driving cross country (I drove 40 hours across the country this summer to train in Flagstaff, AZ)
My favorite thing about Coach Bonsey is: Coach Bonsey is always willing to go the extra mile with the team
My favorite class at Georgetown has been: I would say a tie between Frontal Lobes: Higher Order Cognition and Religion in American Political Life.
My favorite event trip is: The NCAA Championships – no matter what season – are so much fun because once I am finished racing I can cheer on my teammates and watch my friends from other teams race in some of the best races in the world
The place you are most likely to find me on campus: You can find me hanging out with teammates at Leo's for dinner! Katrina Coogan and I would sometimes spend 5-6 hours just hanging out.
My favorite sport other than track is: I love to watch Cycling! Vive Le Tour!
My teammate who makes me laugh most is: Scott Carpenter – we drove from Boulder to Massachusetts last summer (28 hours) and spent pretty much the whole time laughing!
My favorite place to eat in Washington, DC is: Gotta be Cava Grill!
My favorite quote is: I was told that "Everything is your responsibility." Whether that is in school, athletically or making the world a better place. It is our responsibility we cannot wait for someone else to do it for us.