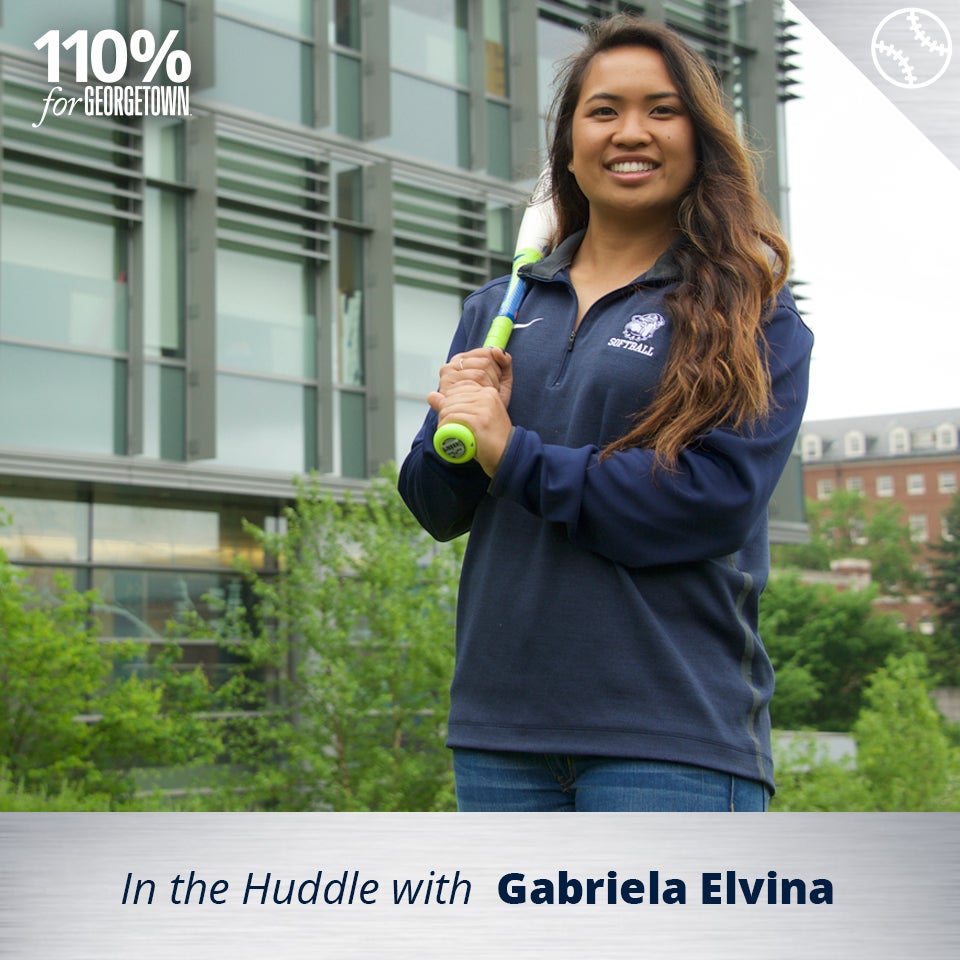 As a senior, Gabriela Elvina has been a staple of the Georgetown Softball program. Elvina has started 122 games at catcher over her first three years on the Hilltop and in 2016, she registered 33 hits, 20 runs, 18 RBI and three home runs. Let's go In the Huddle with Gabriela!
Why did you choose Georgetown? Georgetown is the total package: a world-class education while competing at the highest collegiate level at the same time. This is a potential college athlete's dream come true. You can put us head-to-head against any university out there with our prestigious rankings and uncanny tradition and we are second to none.
What is something that has brought your team together? The Thompson Center is just the first step in creating a more unified athletics department and honoring those who came before us. We now have a place for all student-athletes to do work, hang out, and get to know others from different teams.
What community service does your team participate in? For the past three years, we have volunteered at the Nationals Youth Baseball Academy teaching underprivileged kids different softball/baseball skills and tutoring them. This is our way of reaching out in the DC community and spreading our knowledge and love of our sport.
How do you give 110% for Georgetown? As a member of the softball team and Vice President of SAAC, I give 110% for Georgetown by being a voice for others to better my team and our community.
What would you like to say to donors to Georgetown Athletics? Thank you to all of our donors for making our experience here at Georgetown an unforgettable one. Without your constant support, we would not be performing at the level we are today and being national leaders in all aspects.
Hoya Facts with Gabriela Elvina
My favorite TV show is: Friends
My favorite holiday is: Thanksgiving because of all the food!
My teammate I admire most is: Kelly Amen – she inspires me to work harder every single time we step on the field. Playing alongside Kelly and how much she has stepped up makes us a better team.
Something about me that would surprise my teammates is: I still sleep with a nightlight…
My favorite thing about Coach Pat Conlan is: Coach Pat is very passionate and she cares a lot about each of her players. At the end of the day, she doesn't care about what the scoreboard says, but more that we are developing into female leaders and role models on and off the field.
My favorite class at Georgetown has been: Sociology of Hip Hop: Jay-Z
My favorite sport other than softball is: Tennis
My favorite place to eat in Washington, DC is: Cava Grill
My favorite quote is: "Generally speaking, now is as good a time as any." – Hugh Laurie
If I could be any Georgetown alumnus, I would be: Bradley Cooper