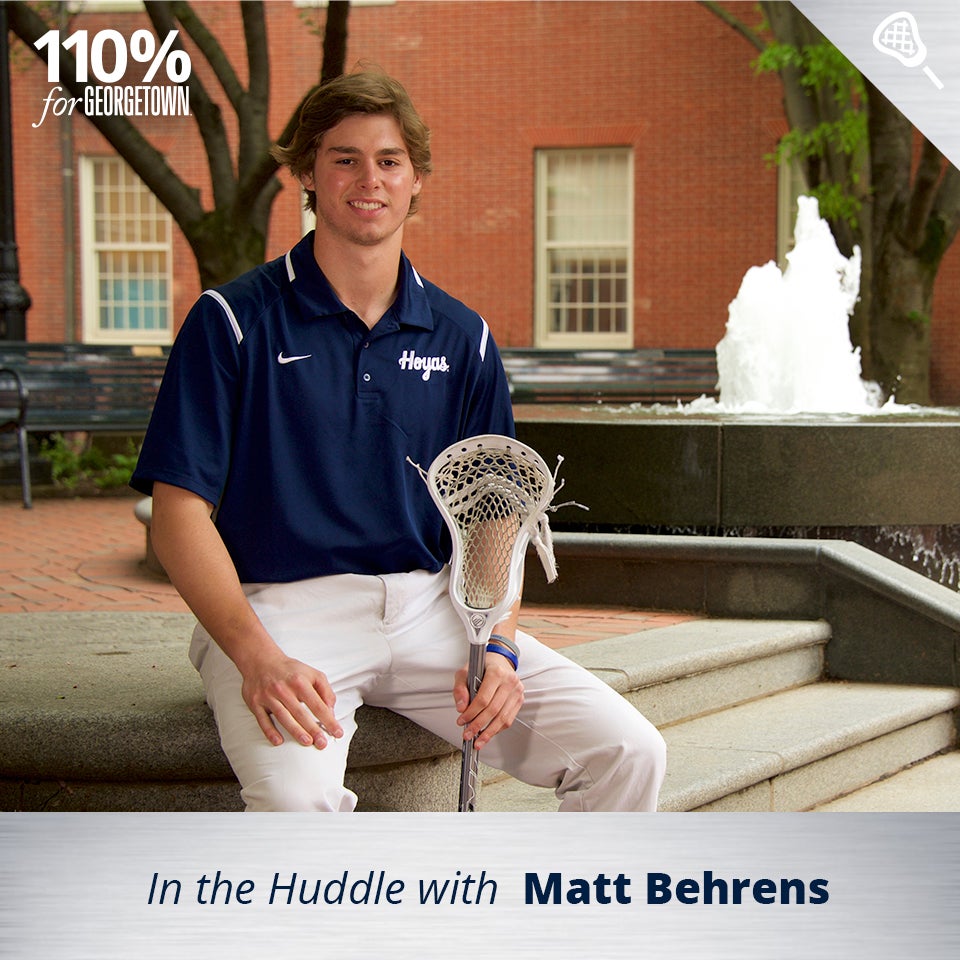 Georgetown Men's Lacrosse junior Matt Behrens' impact extends well beyond the lacrosse field – he was twice named to the BIG EAST All-Academic Team and is a member of the Patrick Healy Fellowship, promoting diversity on campus. On the field, Matt appeared in all of the Hoyas' 14 games as a sophomore, starting six games and tallying eight points on the season. Let's go In the Huddle with Matt!
What is a bonding experience that has brought your team together? Not only does the Thompson Center provide new and exciting resources, but it is also a reminder of the rich history of Georgetown Athletics which inspires us to continue to carry on its legacy with excellence and respect. It allows for our team to achieve greater cohesion, and our new locker room creates a more positive team atmosphere.
What are your career aspirations after graduating? I plan on attending law school and aim to go into law advocacy or public policy, focusing on social justice with the goal of creating positive social change.
How do you give 110% for Georgetown? I am a member of the Patrick Healy Fellowship, and participate in the Sexual Misconduct Task Force on campus.
How are you involved with community service? As a team, our volunteer work centers around cancer research, awareness and fundraising. Each fall we help Race to Beat Cancer 5K, a road race in Georgetown, and we also participate in Cycle for Survival in the spring.
What would you like to say to donors to Georgetown Athletics? Thank you for your continued support of our athletic teams, we truly appreciate everyone that cares about us and our success.
Hoya Facts with Matt Behrens
My favorite TV show is: Rick and Morty
My favorite holiday is: Christmas because I love spending time with my family.
The teammate I admire most is: Peter Tagliaferri because of his persistence in the classroom
Something about me that would surprise my teammates: I used to play the cello in high school
My favorite thing about Coach Warne is: His sense of humor
My favorite class at Georgetown has been: The Church and the Poor
If I could be any Georgetown alum, I would be: Bill Clinton
The place most likely to find me on campus is: Lau 1 aka "the Grindhouse"
My favorite sport other than lacrosse is: Basketball
My favorite place to eat in Georgetown is: Booey's