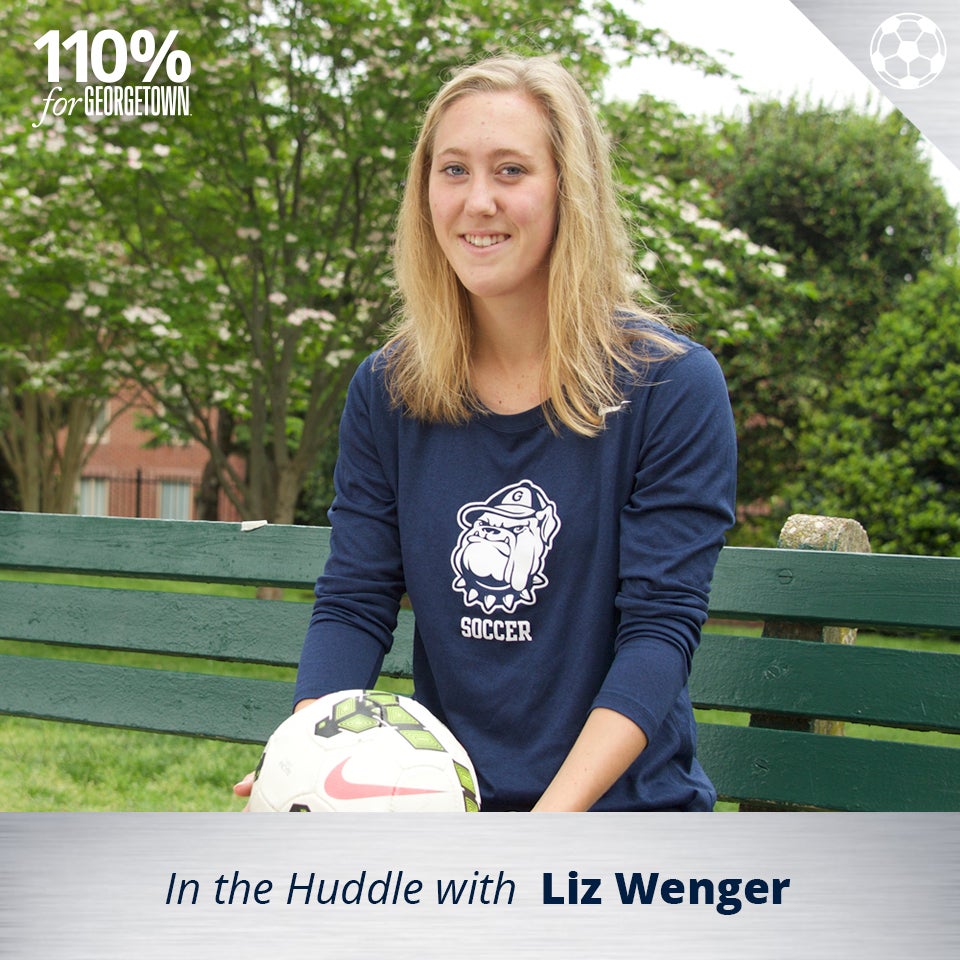 Georgetown Women's Soccer won its first-ever BIG EAST Tournament title with a 2-0 win over Marquette this season. Junior Liz Wenger has been an integral part in its championship season and  the junior was named All-BIG EAST Second Team for the second-straight year. Liz also leads the team in minutes played and was named BIG EAST Defensive Player of the Week twice during the season. Let's go In the Huddle with Liz!
Why did you choose Georgetown?
I found at Georgetown the perfect combination of academic and athletic excellence.
What has been your favorite team experience prior to this year?
Beating West Virginia in the 1st round of NCAAs in penalty kicks.
How do you give 110% for Georgetown?
Giving 110% is arriving home at 4 a.m. from an away trip, getting up later that morning for class, and going to practice that evening.
What would you like to say to donors to Georgetown Athletics?
Thank you very much for supporting the athletic pursuits of the young adults at this university. It is through your generous giving that we are provided with the tools to succeed in the classroom, on the field, court, or track, and beyond.
Hoya Facts with Liz Wenger
If I could be any Georgetown alum, I would be: John Mulaney
My favorite TV show is: Bones
My favorite holiday is: Easter because it's a very meaningful holiday and my extended family always gathers for it
My teaammate I admire most is: Marina Paul. She's come back from two ACL injuries in her time here at Georgetown.
Something about me that would surprise my teammates: I'm not actually Amish.
My favorite thing about Coach Nolan is: His sarcastic humor
My favorite class at Georgetown has been: Moral Foundations of Market Society
Favorite away game has been: Beating the then #1 ranked WVU this season on their own field in double overtime
The place you are most likely to find me on campus: The Hariri Building
My favorite sport other than soccer is: Field hockey
My favorite place to eat in DC is: Chaia
My favorite quote is: "Have I gone mad?" "I'm afraid so. You're entirely bonkers. But let me tell you a secret. All the best people are." -Tim Burton's Alice and Wonderland