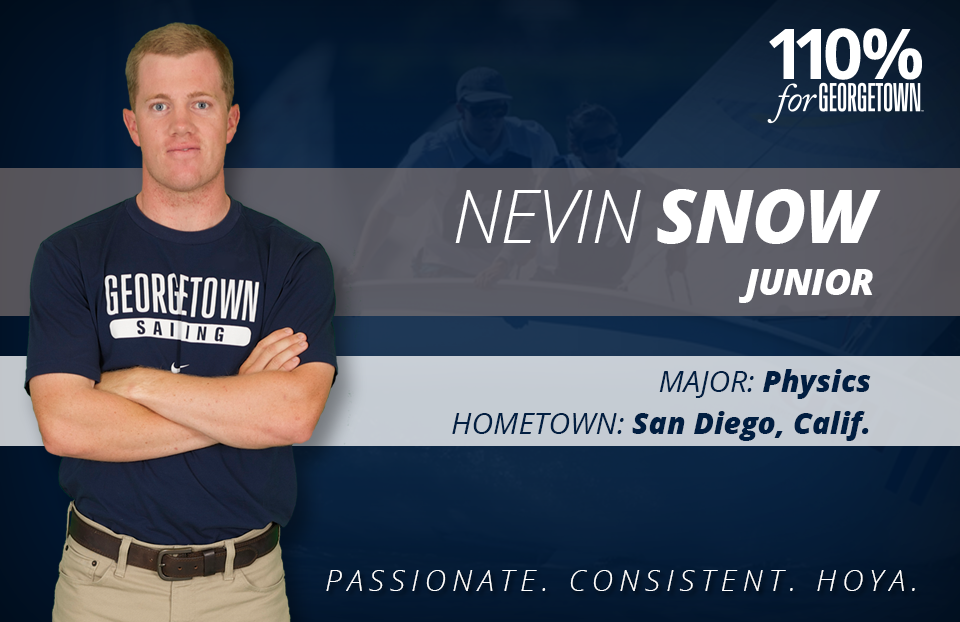 As a junior, Nevin Snow has made a tremendous impact on Georgetown's illustrious sailing program. In November, he was part of the Hoya team that won the ICSA Match Race National Championship for the second year in a row, the program's 11th national championship. Nevin was also a member of Team USA, represented by four Hoya sailors, which won the 2014 World University Match Racing Championship in Trentino, Italy. Let's go In the Huddle with Nevin!
What is your most memorable moment at Georgetown?
My most memorable moment sailing for Georgetown was winning the 2013 Match Racing Nationals and celebrating in a huge hug with my teammates. We were all so happy, relieved and excited that we couldn't speak.
What is a race day routine you have?
I like to get to a regatta early, with plenty of time before the first race, so that I can catch up with my friends from other schools. Maintaining those friendships helps me to release stress and escape the pressure before going out on the water.
How do you give 110% for Georgetown?
After practices in May, we stay late for an hour or two after practice to sail with Special Olympics athletes and help them to get outside and active after work.
What made you choose to come to Georgetown?
The focus on academics in the athletic department while maintaining a serious, competitive atmosphere in sports is what made me choose Georgetown. I knew I would be pushed to be the best in every aspect of my life.
What does "Together, We Are Georgetown" mean to you?
To me, "Together, We Are Georgetown" means that everyone on campus and on the team is responsible for the success of the team. For the sailing team, it doesn't matter if you compete every weekend or are only coming to practices, everyone is equally important to how we perform and it is everyone's success.
What would you like to say to donors to The Annual Fund for Georgetown Athletics?
Thank you so much for making such a great program as the sailing team available at Georgetown University. This team continues to grow tight knit relationships through sailing, academics and adversity and the ability to take part in such a great organization is a once in a lifetime opportunity.
Hoya Facts with Nevin Snow
My favorite class at Georgetown: Mechanics in the Physics Department
If I could vacation anywhere, I would go to: Santa Barbara, CA
My favorite tourist activity to do in DC is: Eat at Ben's Chili Bowl
My favorite thing about Coach Mike Callahan is: His combination of humor and intensity
My greatest strength as a sailor is: Consistency
My best sport other than sailing is: Anything with a board/surfing
My favorite place to eat in Georgetown/DC is: Surfside
The team I look forward to competing against most is: Yale
The teammate that makes me laugh the most is: AJ Reiter
My teammates would be surprised to know that I: Snore very loud