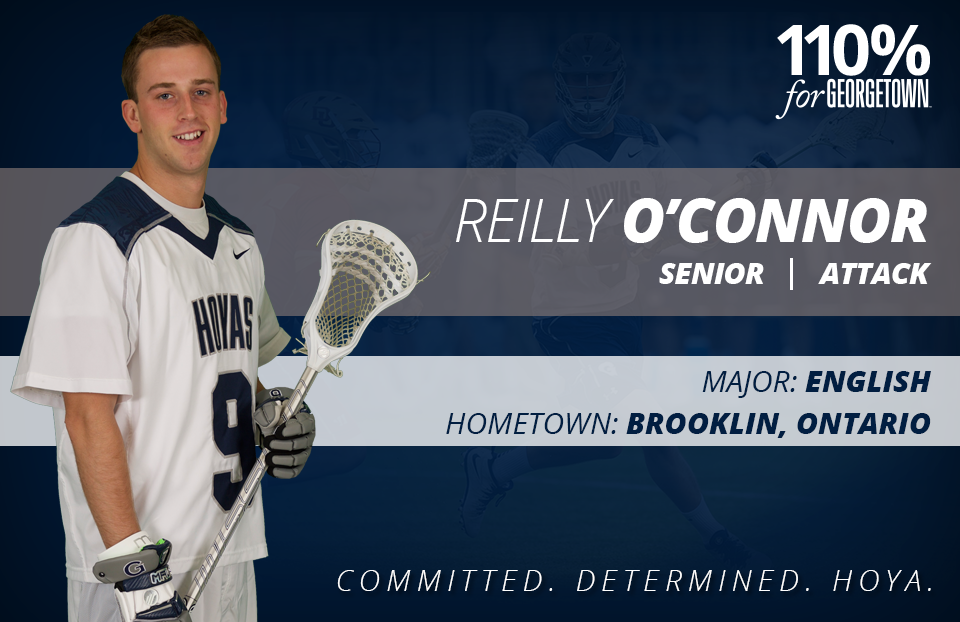 Two-time team captain Reilly O'Connor started 12 games at attack for Hoya Lacrosse in 2014, tying for third on the team with 15 goals and 12 assists. Named to the BIG EAST Weekly Honor Roll after the team's win over Hofstra, Reilly has scored 4 goals with 2 assists in the first three games of the 2015 season.
Let's go In the Huddle with Reilly!
Who is your all-time favorite Hoya?
My favorite all-time Hoya is Brodie Merrill. He is the best lacrosse player and one of the best athletes to step foot on our campus. He was my high school coach and a major reason in why I decided to come to Georgetown.
What volunteer work do you do?
As a member of the lacrosse team, we make it our goal to get out in the community and give back to the less fortunate. This year, I've been able to help out at Hoya Dreams down at the Georgetown Hospital with a few teammates, volunteered at lacrosse camps in the area, and always look forward to the team's annual Cycle for Survival day.
How do you give 110% for Georgetown?
We try to get out as a team and do as many community service projects as we can. Giving back to those less fortunate is important to us because we have been given so much from the whole Georgetown community.
What would you like to say to donors of The Annual Fund for Georgetown Athletics?
Thank you so much, on behalf of the entire men's lacrosse team, for making our dreams become a reality and allowing us to go out and play the game we love every single day.
Hoya Facts with Reilly O'Connor
My favorite class at Georgetown has been: Spanish
My greatest strength as a lacrosse player is: My knowledge of the game
My favorite tourist activity in DC is to: Check out all of the monuments
My favorite thing about Coach Kevin Warne is: His passion
My favorite place to eat in Georgetown is: Hoya Court
My best sport other than lacrosse is: Tennis
My teammates who make me laugh the most are: Anthony Heaton and Drew Higgins