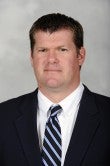 It was an enjoyable weekend for the team as we earned our first victory of the year over the Hofstra Pride, 13-11!  The staff was excited to see our players start the game with energy as we raced out to a 4-0 lead.  This was something we addressed during the week of practice and the team responded well.  There were some great individual efforts by our starting attack group – Bo Stafford (2 goals, 3 assists), Stephen Quinzi (3,0) and Reilly O'Connor (3,1) combined for 12 points as a unit.  If we can continue to get that type of production from our attack, we will always have a chance to win.  On the defensive end,  freshman goaltender Nick Marrocco made 17 saves to secure the win, earning him BIG EAST Defensive Player of the Week honors.  Reilly O'Connor was named to the Big East Honor Roll as well.
We are now focused on our next opponent, Mount St. Mary's.  We make the short trip to Emmittsburg, Maryland for a 4 p.m.face-off on Wednesday.  They are 1-2 with two close losses to Delaware and Towson, so we will need to be prepared for a tough battle. After Wednesday, we start "Spring Break 2015" with a home game against Hobart at noon on Saturday.
On Sunday, the team headed over to Equinox in Bethesda, Maryland to take part in the Cycle for Survival event, representing "Team Perry".  As always, the guys enjoyed being a part of such a great event and worthy cause.  I got a chance to speak with Perry and Larry Zimmerman as well – I'm happy to report that she is doing really well!  Mr. Z was excited and appreciative that both the men's and women's lacrosse teams were there to support Perry.
Have a great week!