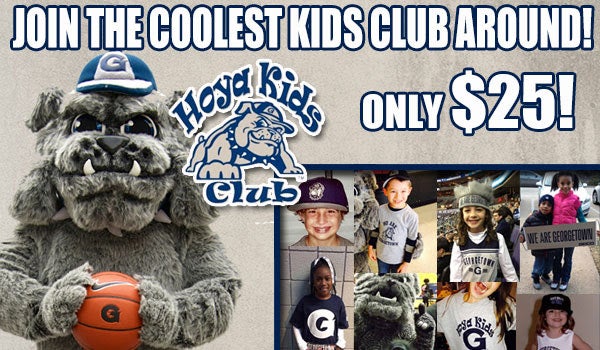 The 2014-15 athletic season is right around the corner, and Jack the Bulldog invites you to sign up for the Hoya Kids Club ! Members will receive four FREE tickets to three select Georgetown Men's Basketball games and FREE admission to all other regular season (non-men's basketball) sporting events. Jack is ready to cheer on our Hoyas, but he needs your help!
Hoya Kids Club members also gain access to:
• Additional discounted men's basketball tickets for select home games
• Members only t-shirt
• Exclusive membership card
• Clinics, events and meet & greets with current Hoyas
• E-Birthday card from Jack the Bulldog
• Opportunity to be a ball kid during games
• Select giveaways throughout the season
• Invitation to the "Kids Take Over McDonough" event
You will not want to miss out on the Hoyas' upcoming games, events, and giveaways this season. Jack says to sign up today!
To sign up your kid(s) online, visit here. For details on how to join by mail, visit here.
If you have any questions on the Hoya Kids Club, please e-mail sportspromo@georgetown.edu. If you have any questions on purchasing your membership(s) online, please e-mail hoyatickets@georgetown.edu.