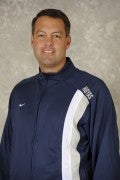 The boys converge back on campus this weekend for what is always the most exciting time of the year for me. Preseason begins next week as we prepare for one of the most challenging schedules we could put together for this group. The schedule is highlighted by thirteen NCAA participants from last season, including three of the four College Cup teams. The schedule can be found by clicking here.
Two of our players have been honored ahead of the season by being named to the MAC Hermann Trophy Watch List. Junior forward Brandon Allen and sophomore defender Joshua Yaro are both part of the 32-player list, which names the national player of the year at season's end. Georgetown joins Washington, SLU and UCONN as the only schools with two players on the list. The list can be found by clicking here.
We also have received a preseason ranking of #9 by the NSCAA. Our schedule includes eleven teams that show up in the preseason poll: #1 Notre Dame, #2 Maryland, #3 Virginia, #12 Marquette, #15 Penn State, #16 UC Irvine, #21 Wisconsin, RV VCU, RV Creighton, RV Indiana, RV St. John's, and RV William & Mary. The poll can be seen by clicking here.
We Are Georgetown!