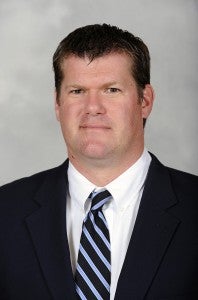 Our scrimmages have come to an end and we have taken a lot of positives from them. It was also very clear what we need to work on as the regular season is upon us. We had two good runs versus Johns Hopkins and UMBC, and we got multiple looks from them that we do not see everyday in practice. This last week was spent on what Georgetown needs to do to be successful. We are very excited that some of the injuries we have sustained are now healed and we will be close to 100% as we start the season.
This will be a busy week for the Hoyas as we play two games on Wednesday versus Mount St. Mary's and Saturday at the Naval Academy. These are two really good tests for us as each game has an interesting dynamic. Our first game will challenge us mentally because we are playing a team that beat us last year and we will playing with the raw emotion of opening day. I am really excited to see the guys run around for a couple of hours on the Multi-Sport Field. After the game we will hit the "reset" button and start to get ready for the Navy. As we all know they play extremely hard and will definitely have a little bit of a chip on their shoulder, as we knocked them off last year in overtime.
I also wanted to say thank you to Eric Bicknese, who was in town on Saturday and spoke to the team about the "pain of discipline and pain of regret". We all know this was a very big Coach U-ism. It really set the tone for the guys heading into the week.
Last but certainly not least, Craig Dowd asked me to forward everyone a message regarding a pre-game tailgate at Hofstra. It is below:
March 1 the Georgetown Lacrosse team will be facing off against the Hofstra Pride on Long Island (Hempstead, NY). This is a great opportunity for the New York area alumni, family, and friends to showcase their passion for the program to all of the recruits in attendance. We will be organizing a tailgate at the venue inviting all friends of the program. If you plan on attending the game, please email Craig Dowd (
craig.dowd12@gmail.com
) with who you will be coming with so we can make the proper arrangements for the tailgate.
It's an honor to write to you each week!
Go Hoyas,
Kevin Warne
Head Coach, Men's Lacrosse