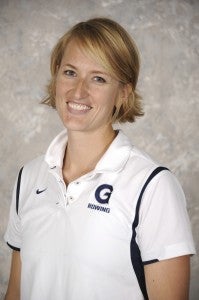 Happy February! The year is flying by. I wanted to update you on all the exciting things happening on the Hilltop with our team.
After a successful fall, the team met back up in Sarasota, Florida, for our weeklong winter training trip. A typical day was about 4-5 hours on the water in pairs, fours and eights broken up into two or three sessions. The squad is getting experienced and technically capable enough to really get down to work on trips like these, so we had some very competitive, very fun days with the whole squad getting good miles and hard work done together. Pictures can be found here.
In Florida, we had some of our longest and our best rows since I've been here. The level of quality, focus and intensity was high and consistent – which is challenging to do 2.5 hours into a 3-hour row. We were treated again to a delicious spread and an entertaining evening with local Georgetown alums Ed and Ted Baran and their families; we were grateful to be welcomed so warmly by fellow Hoyas. On the final day doing starts and a few high tens, the team looked as strong and as sharp as I've ever seen them. Both coaches and athletes alike felt eager to race, sad to not be hitting the water on our return.
The team returned to DC and headed back into land training. The cold weather has frozen the Potomac, but the athletes are enjoying the new Rowing Training Center, a new facility this year that wouldn't be possible without the generous gifts of parents and alumni. You can check out the new room here.
On January 18, we welcomed home alums Cathy Symon C'93 and Missy Schwen Ryan F'94 for their induction into the Georgetown Hall of Fame! The team had a chance to talk with them after our Saturday practice and hear their stories, which was a highlight for both athletes and coaches alike. This is an incredible and well-deserved honor for both women, and the current team couldn't be more proud of two such accomplished and down-to-earth teammates. Pictures can be viewed here. A full press release can be found here.
As we look forward to the spring, we are excited that every year we've seen such great improvement as we build; this year is no different. The culture of the team is more solid in its third year and the leadership more driven by the athletes, as it should be. A big and hardworking bunch of freshman, both walk-ons and recruits, are pushing everyone hard with strong senior and junior leadership setting the tone.
Our performance goals this year remain the same: for the lightweights, their desire to see Georgetown on the medal stand at the IRA remains the focal point. The open weights have their sights set on winning the conference championship as a new member of the Patriot League. The schools to beat are Boston University and Navy, who won the championships last year (this is BU's first year in the conference as well). A conference win happens by accumulating points in three events: Varsity Eight, Second Varsity Eight and Varsity Four. A win on May 16 in Worcester would mean an automatic bid to the NCAA Championships, along with 21 other programs of the 90 across the country who now support D-I Varsity Women's Rowing.
As we've discussed as a team, there is much failure on the way to success. Success is won by the persistent, by the indefatigable, not by flash-in-pan efforts. We're staying focused on each day – as each day is race day – so we can wake up on May 16 and May 31 and be ourselves: ready to have our best day. As we've been saying at practice: We're driving for the summit but staying focused on our feet – taking each step well.
Please consider supporting us as we race this spring – we'd love to see you! Our race schedule can be found here. Unless otherwise noted, an event without a weight class listed means the whole team is competing. If you have questions, don't hesitate to reach out to me! Thank you, as always, for your support, in all ways it comes. We can't do it alone.
Hoya Saxa!
Never Row,
Miranda
Miranda Paris
Head Coach, Women's Rowing