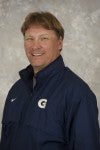 Hello Hoya 9 Family and Friends:
I wish I was writing to you in better surroundings! I know some of you are reading this up in New England and probably rolling your eyes and telling me to stop my whining, but it's different when we're trying to play college baseball and usually have about 12 games under our belt by this time and now we only have 7…
What makes it worse is that we are sitting at 1-6 with what could be a very good baseball team in this locker room.  Since you last heard from me, we lost to crosstown rival GW, 3-0 and then went down last weekend to play a much improved Davidson College team in a weather-shortened Sunday doubleheader and lost both to the Wildcats.  We simply haven't put it all together yet in terms of the three key parts of this great game:  pitching, defense and timely hitting.  When we pitch and play D (last Wednesday we pitched very well again, with the game tied 0-0 into the 7th and also made several outstanding defensive plays), we don't hit (putting up a less than impressive 7 hits vs a mediocre GW staff that day.)  When we hit (11 runs, 12 hits) we don't pitch (11 walks! I thought those days were over…) like in game 2 vs. Davidson, when we blew leads of 6-1 (in the 4th) and 11-9 ( in the 9th)…so as you can imagine we're all a bit ornery as of late with the weather and our poor start the biggest factors.
All that being said, I'd like to tell you about all that's right with this club.  We have a much improved defense, with what I believe to be the best 1-2 catching tandem in the league with Nick Collins and Eric Webber.  I don't see anyone in our conference who can match up behind the plate and I think one could make an argument for them being the best in our region as well.  Our infield D has improved drastically with the addition of frosh Chase Bushor at second base and the move across the diamond to third base for Jake Kuzbel.  AC Carter has proven more than adequate at first base (he could start for a lot of teams behind the plate, but with our wealth of catchers, we had to find a spot for his bat, so first base seemed to be the place to try him and he's played well there).  Ryan Busch has played a very good shortstop so far as well.  Combined with our improved pitching, this is the biggest reason I still believe we'll be a good team this year.  Like many other teams in this region, we just have to keep playing to get into a rhythm, and we haven't been able to either play nor practice with any kind of regularity with what Mother Nature has put in our backyards (as I type this we still have about 4 inches of snow on the ground).
Offensively, I really liked our approach this past Sunday at Davidson.  We were aggressive and attacked, which I hadn't seen enough of in the previous four games we'd played.  We kept harping on it and saw the results on Sunday, unfortunately the ultimate result didn't show it as we lost both.  Austin Shirley and Bushor (both frosh) were moved up to 1-2 in the lineup and produced immediate results, going a combined 7-18 in the doubleheader with 2 runs scored and 4 RBIs between them.  Nick Collins hit his first bomb of the spring, hopefully the first of many, a solo shot to right field that everyone in the park knew was out before it was 30 feet off his bat.  Webber had good at-bats in the game he caught and made several sparkling plays defensively.  The story of Sunday's games can be summed up like this:  game one, we lost 6-2 but the game came down to a bases-loaded, two out situation in the 6th inning with the game on the line.  With the runners moving in a full count, the Wildcat hitter hit a ball in the 4 hole (between 1st and 2nd).  Chase raced over to make a good play on the ball, then lost his footing on the wet grass (they had 3 inches of snow they had to move off the field to play Sunday) and threw the ball as his foot was slipping widely to AC at first base.  Two runs scored followed the next play by the third, changing the whole game.  Not much you can do but shrug and say "that's baseball."  But it had a huge impact on the game.  Game two?  We walked 11 guys.  No more needs to be said.  Had a 6-1 lead, blew that, battled our butts off (Simon Mathews got out of a bases loaded, nobody out situation in the 6th inning with the score 9-8 Davidson by striking out two of the three hitters and inducing a popup for the third out).  Awesome performance that allowed us to put up 3 more runs in our half of the 8th and then we coughed it up in the 9th, as we allowed a leadoff hit (no big deal, they earned it, but then we walked 2 guys!) and they broke the tie then got the win with some clutch hitting.  Tough loss, no doubt, but we kept putting a loaded pistol to our heads with all the walks…
So we have a unique situation here.  We sit at 1-6 but I KNOW this team can and will run off a winning streak soon.  This is a good baseball team.  We just need to play.
Thanks to all of you for your continued support and I hope to see you at the yard soon!!!