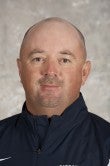 Hard to believe that we have already wrapped up preseason and are into the cut and thrust of the regular season. The girls obviously worked very hard over the summer and reported in great shape, which helps us tremendously. The first two weeks were about putting together a new starting line up as we try to fill the holes left by our recently graduated class. We had two good exhibitions, beating George Mason (6-2) and playing out an exciting tie against a strong Penn State (3-3).
Opening weekend had us travel West to face off against two very strong and probable NCAA tournament teams at the University of San Diego Tournament. On Friday night we faced off against the host Toreros and played really well, coming away with a 3-1 victory. A great performance by Daphne Corboz and two great finishes by Vanessa Skrumbis helped send us home with the win. On a hot Sunday afternoon we battled hard against a talented Long Beach State team and finished with a fair 0-0 tie. A great late save from Emma Newins was key here. From a playing standpoint, two good results which should help us down the road.
Off the field the girls really came together as we explored some of the finest sights of San Diego. A stunning harbor cruise, a spectacular city view at Point Loma and a great day at Seaport Village made this experience more than just a soccer weekend which is very important.
Next up is our home opener against NC State on Friday at 3 p.m. and a visit to Towson on Sunday at 1 p.m. We are excited to build on our good start.
Before I go I want to thank all our alums and parents for their support this weekend, it is always great for the girls and we hope to see many more of you along this year's journey.
Hoya Saxa!