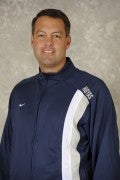 We have just completed our preseason camp where we spent five days training at beautiful Mercersburg Academy. It was a wonderfully isolated setting with top-level facilities, dorms and meals to help put us through our paces. We went directly from Mercersburg to Penn State for our first exhibition match, where the boys looked sharp in a 3-1 win over the #15 Nittany Lions. We followed that trip up with another great preseason teston Saturday, as we traveled down to Charlottesville to take on #3 Virginia. Both teams played with some injuries (we were without forwards Brandon Allen and Alex Muyl), but senior defender Jared Rist picked up the scoring slack for us, netting a late equalizer to give us a 1-1 tie in regulation. We played an additional 30 minutes to give our young boys some quality minutes, and freshman Declan McCabe scored on a laser beam from 25 yards to give us a 2-1 edge by the end of the extra session.
Opening weekend now looms large, as we look forward to squaring off against the last two national champions. We play tournament host Indiana on Friday night at 8 p.m. in a rematch of the 2012 national championship game. We will then turn right around and play the reigning national champions, and top-ranked team in the country, Notre Dame, on Sunday at 11:30 a.m. These two games will quickly tell us how we stack up, and go a long way in preparing us for the rest of a very challenging schedule.
I'll let you know how things go in Bloomington, and, in the meantime, Go Hoyas!