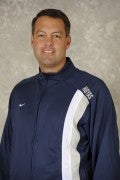 Sometimes this sport that we love doesn't love us back. On Thursday, we played a talented and athletic VCU squad on another scorcher of a day. After going up 1-0 early in the second half on a well-taken goal by junior forward Brandon Allen, we had two gaping net chances that we put over the crossbar, and another point blank chance that the VCU goalkeeper did well to snuff out. Instead of being up by two or three goals, our single goal margin was erased on a deflected shot from distance with about ten minutes to play. In true Shakepearean form, VCU drove the dagger home in overtime to stun the boys with their first loss of the season. It was a tough one to stomach because of how much of the game we had, and how well we were able to contain the VCU side over the course of the game.
 
The VCU game highlights can be seen by clicking here.
The team looked to rebound against one of the top teams on the west coast on Sunday. UC Irvine, ranked 9th in the country, visited the Hilltop with a beautiful fall afternoon as the backdrop. I felt we came out with a tremendous first half performance, and deservedly went up on another clinical goal by Allen. To UC Irvine's credit, they produced a very good second half performance to tighten the game up. In a carbon copy of the VCU game, however, we failed to extend our lead, and a counter attack from one of our corner kicks led to a game-tying goal with only about seventeen minutes to play. I thought the boys showed a bit more steel after we conceded the goal than the previous game, and we saw several great potential game winners go begging. While it wasn't a loss in the end, our group will need to start finding our way back into the win column in short order.
 
The UC Irvine game highlights can be seen by clicking here.
 
The schedule continues to throw hard challenges our way, as we must head up to Princeton tomorrow to prepare for a Wednesday night tilt against the Tigers from the Ivy League. The game will be shown live on ESPNU at 7 p.m.
I'll let you know how things go against Princeton. In the meantime, Go Hoyas!