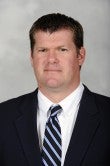 I hope everyone had a great summer and that you had a chance to find some time away. There have been a lot of great things happening here on the Hilltop. First off, we started practice this week with our 2015 team.  We were able to do small group individual teaching and drilling on the field last week.  On Friday, we split the squad up into Blue and Gray and scrimmaged for an hour. It is always fun to see the freshman run around with guys three and four years older than them and to see the college game in a full field setting.  This week, we will break the game down into small parts as we begin to implement our systems.
Here are a few updates regarding our fall schedule:
Alumni game: Saturday, September 27 – 9:30 a.m. Tailgate to follow.
Fall Tournament: Capital Lacrosse Classic on Sunday, October 12 at the Landon School. The tentative schedule has Georgetown playing Richmond at 10 a.m. and UMBC at 2:15 p.m.  More information can be found on their website at www.capitallacrosseinvitational.org/
Schedule: Our schedule has not yet been released, as we are still trying to finalize start times.  However, I can tell you that it will be extremely challenging.  We were able to secure some elite competition that will prepare us well for conference play in the BIG EAST.  Stay tuned!>
Thompson Center: If you were on campus, you would be able to see work on the Thompson Center taking place.  It is a welcomed sight for all of us!   The official groundbreaking ceremony is Friday.