Friday, September 12, 2014 was a historic day for Georgetown Basketball as the Hoya family celebrated the groundbreaking of the Thompson Center.  The celebration kicked off with the 2014-2015 Hoyas assembled at the site of what will be the Thompson Center along with many Hoya greats that came before them.  The energy and excitement was evident as everyone took their seats to wait to hear from those who have made and are still making our program such a great success.
The morning program featured speeches by, among others, Athletic Director Lee Reed, Board of Directors Chairman Paul Tagliabue, President Jack DeGioia, Coach John Thompson III, Athletic Director Emeritus Frank Rienzo and, of course, Coach John Thompson Jr., who engaged the crowd with personal stories about his family, his hiring at Georgetown, and the joys of coaching so many of the men who were seated in front of him.  Not surprisingly, Coach focused on the importance of education, stressing that "this school is defined by more than victories."  Coach also shared that he became friends with President DeGioia many years ago, when the two would often pray together.  He also joked about how glad he now is that the two formed such a strong bond so many years ago, because "you never know who is going to grow up to become your boss."  As Jill Sorenson from Comcast SportsNet commented, the groundbreaking ceremony "was one of the coolest events I've attended in 20 years in this business."  And the day was only getting started.  (If you were not able to watch the ceremony via live webcast, a photo gallery as well as a full video replay can be found here). 
On Friday evening, a private event was held to celebrate the legacy of Coach John Thompson, Jr.  Even more former players were in attendance, and several shared some highlights of their experience playing for Coach Thompson.  Coach Ed Cooley from Providence joined in the festivities as well as Coach Thompson's good friend, Dan Rather, and many others were present through video tributes — including Bobby Knight, John Chaney, George Raveling, Mike Krzryzewski, P.J. Carlesimo, Jim Calhoun, Jim Boeheim and Phil Knight.  Coach Thompson's grandchildren made a touching video for their "Papi," and his children also paid him moving tributes.  Allen Iverson even talked about practice — no joke!  What was clear from all the speeches was the profound impact Coach Thompson has had on so many people — not just at Georgetown, but throughout the world.
Later in the evening, Coach Thompson was inducted into the Georgetown Athletic Hall of Fame, appropriately taking his place alongside many who were in the crowd to honor him, including Patrick Ewing, Reggie Williams, Derrick Jackson, John Duren, Sleepy Floyd, Dikembe Mutombo, Alonzo Mourning and Francis Rienzo, among others.  Coach Thompson then took the stage, again sharing many wonderful memories and highlighting several of the people who supported him along the way, paying special tribute to Lorry Michel, Greg Roberts and Mary Fenlon (the team's long-time athletic trainer, head of security, and academic adviser, respectively).  He talked about many of the challenges he faced and the way in which he nurtured and educated his players to become responsible men.  His success in doing so was on display throughout the room.  There were many laughs, and a few tears.  Through it all, one word sums up the entire day – "family," and the picture below, which was tweeted by Jerome Williams, captures it well.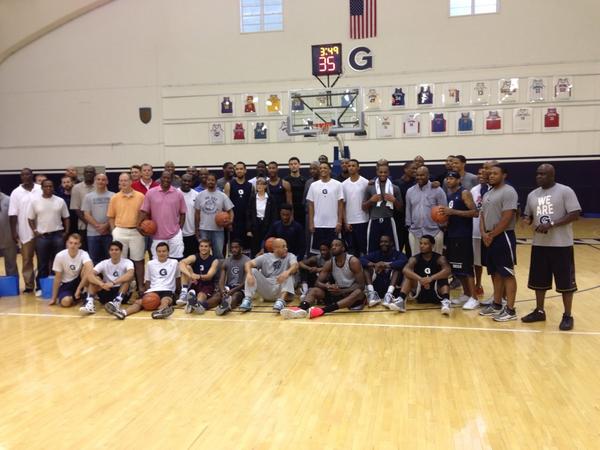 The number of former players in attendance at Friday's events was incredible!  Former players included Patrick Ewing, Alonzo Mourning, Dikembe Mutombo, Allen Iverson, Reggie Williams, Eric "Sleepy" Floyd, Michael Jackson, Ralph Dalton, Michael Graham, John Duren, Lonnie Duren, Mike Hancock, Paul Tagliabue, Eric Smith, Kurt Kaull, David Blue, Othella Harrington, Charles Smith, Jerome Williams, Jaren Jackson, Mark Tillmon, Ron Thompson, Jahidi White, Ed Spriggs, Ronald Blaylock, Tom Coleman, Jim Higgins, Jim Brown, Anthony Allen, Bob Beagan, Mike Riley, Mark Edwards, Bill Fox, Chip Simms, Jim Supple, Ed Hopkins, John Irwin, Felix Yeoman, Ryan Dougherty, Ruben Boumtje-Boumtje, Sead Dizdarevic, Amadou Kilkenny-Diaw, Omari Faulkner, Jeff Green, Roy Hibbert, Greg Monroe, Henry Sims, Otto Porter, and many more!
As John Thompson III said at the morning ceremony: "This is a very special day on so many levels."  Boy was it.  The construction now begins in earnest and we anxiously await the opening of the Thompson Center in 2016!
-Mark Guerrera
President, Hoya Hoop Club