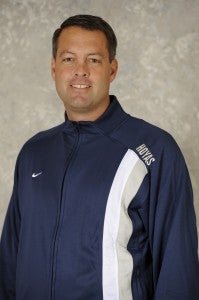 Georgetown Soccer Family,
Time for a water break! The college soccer season comes at you so fast, that only having one game this week feels as needed as ever, and the timing for us is perfect. After falling to a determined Xavier team 2-1 in Cincinnati on Saturday night we find ourselves with a squad nursing three concussions and one broken arm. The rest, both physically and mentally, is welcome. We limped into the Xavier game without the services of three of our center backs, including starter Joshua Yaro, who broke his arm against Providence. Unfortunately, we left the game with an even bigger limp. After starting the game off well, and going up 1-0 off a goal from Brandon Allen midway through the first half, senior captain Steve Neumann knocked heads with a Xavier player putting him out with yet another concussion in our ranks. Just minutes later, and just 51 seconds before the half, Xavier managed to equalize the game on a goal that was hard to stomach. It was a long ball into the top of our box that skimmed off the foot of a Xavier player before deflecting again off defender Keegan Rosenberry, and had eyes to spin into the side netting. Truly a goal that came out of nowhere, and out of nothing.
Without Neumann available for the second half, we struggled finding much of a rhythm, and Xavier did well to combine for the game winner with just fifteen minutes to play. A frustrating night all around, but emblematic of how hard it can be to win on the road in the Big East.
The bright spot for the week was freshman Bakie Goodman, who has quickly found his form again after being sidelined with a minor injury. He scored the all important game winner at Providence on Wednesday (to see those highlights click: GU @ Providence), and assisted Brandon Allen's goal to put us up against Xavier. We'll need Goodman and the rest of the group to be in top form to take on a surging Butler team on Saturday. The Bulldogs sit two points ahead of us in the standings, and the game will have massive implications for both the Big East and the NCAA tournament placement for both squads. If you are planning on coming to the Butler game, we suggest buying tickets ahead of time by going to this link: Butler @ Georgetown Tickets.
I'll let you know how the Butler game goes on Saturday, and in the meantime, Go Hoyas!

Coach Wiese