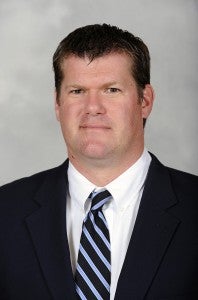 I hope everyone is well. Just wanted to provide you with a recap of the past few weeks. First off, thank you to those who participated in our Alumni Game on Homecoming Weekend. It was great to see so many of you and to see our 2014 team compete for the first time. Our staff appreciates your efforts and the pride that all of you share for Georgetown Lacrosse. I'm glad our current team had the opportunity to interact with those that came before them. Special thanks to Trevor Casey for putting the squad together.
On Friday, October 4, we held our annual banquet to honor the 2013 team and kick off the new season. It was great to welcome back the Class of 2013 and their parents as well as introduce the new crop of freshman players on this year's team.
On Saturday, we attended the Play for Parkinson's tournament at Episcopal High School in Alexandria, Virginia. We had the opportunity to scrimmage Loyola and Richmond. Overall, it was a productive day as we had the chance to evaluate our players in game situations and recognize the areas of the game where we need to improve.
With the fall season finished, we will use the next eight weeks to improve our skills, fundamentals, strength and conditioning. We are also going to incorporate some team building exercises to our workout regiment and volunteer with a few community service projects. January 8th will be here before we know it.
Thanks for all your support.
Go Hoyas,
Kevin Warne
Head Coach, Men's Lacrosse