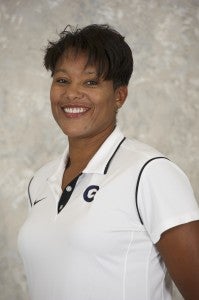 I cannot believe that half the season has already breezed by. It's been a fun, exciting, frustrating, energizing, did I say fun, couple of months. We have an amazing group of young women and our newcomers fit right in with the returners. We have a tight knit group who genuinely care about each other as they work to move our program forward. And work they do.We started out the season playing pretty solid volleyball. We won three of the four matches against our local foes defeating George Mason, Howard and George Washington while dropping one to a very good American University team. We had a huge upset over Western Michigan while at then #5 University of Florida's Active Ankle Challenge. We walked away from the weekend 2-1 with another win over Iona.We were excited about where we were as we headed into the last non-conference games. That's when we ran into our bout of frustrations in the likes of West Virginia and UMBC. We dropped two five set screamers and boy do we wish we could get those back. That started a slide and we saw ourselves on a five match losing streak with a record of 6-10.
But volleyball is an exciting sport and this has been an exciting season. So of course we are bouncing back. We just came off of a great weekend with road wins over St. Johns and Seton Hall. It's our plan to keep the excitement and energy going as we take on Seton Hall and St. John's this weekend in McDonough Gym.
Thank you for all of your support of our players and program, as we strive to create the best possible student-athlete experience for our players.
Hoya Saxa!
Arlisa Williams
Head Coach, Georgetown Volleyball
–