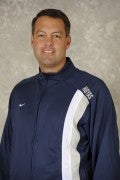 The DC area was getting a good soaking this weekend, so we happily spent Saturday in Chicago where it was a beautiful, crisp day. We played at DePaul for the first time in my nine seasons at Georgetown, and had to contend with a determined and physical Blue Demon team on a field that was, at most, 70 yards wide. DePaul opened the game on the front foot, and worked hard to harry and harass. We were able to settle the game, and grab a hold of things after about the 25 minute mark, but a sea of DePaul defenders made it difficult to generate many good looks at goal. We stressed patience at halftime and through the second half, and the boys keep at it until twenty minutes to play. Sophomore Bakie Goodman shuttled a pass to junior defender Keegan Rosenberry, who penetrated into the DePaul penalty box. Rosenberry found space to hit a left footed worm-burner inside the near post for the eventual game winner. Junior forward Brandon Allen put the game to bed just eight minutes later. After being taken down in the box, Allen stepped up to the penalty spot, and buried his league leading 9th goal of the year.
It was a typical, hard road match in the BIG EAST, and we'll happily take the three points back with us to Washington, DC. We have a short week to prepare for Providence on Wednesday. The Friars are one of the teams that have a legitimate shot at winning the league, so we'll have to be very sharp come Wednesday!
The Week Behind: at DePaul, 2-0 win
The Week Ahead:
Wednesday, October 15 vs. Providence – 10:00 a.m. (Shaw Field) – Time Change Due to Weather
Saturday, October 18 at Seton Hall – 7:00 p.m.
BIG EAST Standings
Creighton      (3-0-0)  9 pts
Georgetown   (2-0-1)  7 pts
Xavier             (2-0-1)  7 pts
Marquette      (1-0-1)  4 pts
Providence    (1-0-1)  4 pts
Villanova        (1-2-0)  3 pts
St. John's      (1-2-0)  3 pts
DePaul          (1-2-0)  3 pts
Butler             (0-3-0)  0 pts
Seton Hall     (0-3-0)  0 pts
I'll let you know how things go against Providence, and, in the meantime, Go Hoyas!