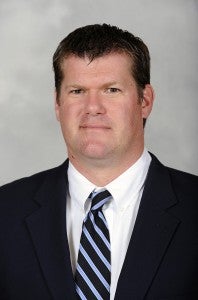 I hope everyone is doing well. I know I can't wait until some of this cold weather goes away, which means it's officially lacrosse season. I just wanted to give you a recap of our scrimmage against Johns Hopkins and other happenings within your program.
Last Saturday night was a special night for Chris Remington and Coach U. What an outstanding honor for them to be inducted into the Georgetown Athletic Hall of Fame. When we had practice on Monday, our guys said they really felt the need to represent Georgetown in a first class manner after attending the induction ceremony and dinner. I thought it was an awesome event for two individuals that mean a lot to Georgetown Lacrosse. I hope some of you guys were able to get a chance to speak with the current team, and maybe network or bust their chops a little as well.
As for the current team, we scrimmaged at Johns Hopkins this past Thursday. We played really hard and tough, which the staff really liked. After about three weeks of playing against each other, it was good to see another colored jersey. We have our last "dress rehearsal" this Saturday at UMBC. That will put us 10 days away from facing off for real on February 12th versus Mount St. Mary's.
Until next time.
Go Hoyas,
Kevin Warne
Head Coach, Men's Lacrosse