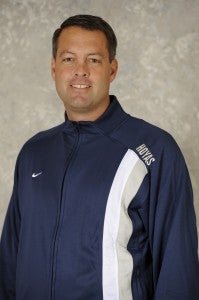 Georgetown Soccer Family,
The midweek match up with DePaul turned into a comfortable three points, as the boys put in a businesslike performance to come away with a 6-0 win. While not the best soccer we played all year, we were patient against a team that tried to sit in and make spaces compact. Junior Tyler Rudy had a sharp first half, and was the principle player in both first half goals. The first was his great strike from 30 yards into the upper corner just five minutes into the match, and the second was his drawing a penalty after some great combination play. Senior Steve Neumann did the honors on the ensuing penalty kick to pad the lead going into halftime. Neumann, a Hermann Trophy candidate again this year, would convert another penalty in the second half, and assist and sophomore Cole Seiler's first career goal. Sophomore Brandon Allen piled it on with a magic trick, scoring from the end line with no angle at all, and freshman forward Brett Campbell finished the day scoring his second goal of the season. Just as importantly, the shutout marked the tenth of the season, which ties the program record for shutouts set in 2010. You can see all the action by clicking: Georgetown vs DePaul Highlights
On to league leading Marquette for a game that will go a long way in deciding the regular season champion tomorrow night. It is going to be cold out in Milwaukee, but they are a hot team, and playing tremendous soccer right now. With a win we would put ourselves in first place, and in a great position for one of the coveted top two seeds in the Big East tournament.
Next Up
Saturday, October 26 @ Marquette 7:05 p.m. kickoff (CST)
Double Trouble
Neumann and Allen are both among the nations leaders with ten goals apiece. The team is leading the Big East in both goals scored and in Goals Against Average. Georgetown now also sits in the top five nationally in both goals scored, and in shutout percentage.
I'll let you know how the Marquette game goes on Saturday, and in the meantime, Go Hoyas!

Brian Wiese
Head Coach, Men's Soccer