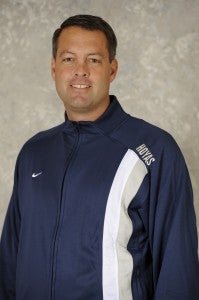 Georgetown Soccer Family,
We are back in Washington, DC after another clash with Marquette. After expecting blustery winds, and colder than you'd like temperatures, it ended up settling into a nice night in the Midwest for a game. Marquette has established itself as one of the top teams in the country, and I feel they have the best team this year of any I've coached against. With the prize being first place in the Big East with two games to play, the table was set for another Georgetown and Marquette classic. I don't think it disappointed.
We started the game very well, and created some quality chances throughout the first half. The best chance came off the foot of senior Steve Neumann, who found himself alone with the Marquette goalkeeper, whose charging effort deflected Neumann's shot off the inside of the far post, but the ball somehow stayed out. The second half saw a resurgent effort from the home side, which leveled the game out with some good chances for both teams. At the break with the game heading into overtime, we made sure that the boys remembered that a tie wouldn't help our cause for winning the league, and it took just four minutes into extra time to put the game to bed. The game winner came from a Neumann corner kick, which found the head of senior Ted Helfrich for his first career goal. What a way to open your scoring account!
It was a great night for the boys, and I really couldn't be happier for Ted. He has been filling in for injured freshman defender Joshua Yaro, and the team is undefeated with Helfrich on the field. He was a reserve for the first two thirds of the season, and was always at the ready for just this opportunity. In truth, the entire six member senior class has been exceptional during this last stretch games either as starters or as reserves with their leadership of the team.
We now have our last road game of the season, as we head up to New York to take on rival St. John's this Saturday night. It's a must win for us, if we hope to win the league, and it's a must win for St. John's if they are to qualify for the Big East tournament.
Next Up
Saturday, November 2 @ St. John's   6 p.m. kickoff
Breaking Records
The shutout against Marquette set a new program record for shutouts in a season with eleven. Junior goalkeeper Tomas Gomez also made his mark on the Georgetown record book by becoming the program leader in career shutouts (23) and shutouts in a season (9).
I'll let you know how the St. John's game goes on Saturday, and in the meantime, Go Hoyas!
Coach Wiese