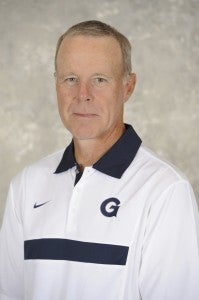 Dear family, friends and fans,
I wanted to thank everyone who came out to Saturday's game, including all of the Georgetown student-athletes and coaches who attended the Gridiron Club's tailgate prior to the game. It was a nice turnout and we all appreciate your support. I also wanted to extend a thank you to Bruce Simmons who organized the event, bringing together all of the student-athletes who were not also competing on Saturday.
As for Saturday's game, obviously we are disappointed in the outcome. We didn't play well in the first half and we had plenty of opportunities that we let slip away. However, there were some bright spots, particularly on special teams. Chad Coleman did a nice job getting down field and recovering a fumbled punt and Dustin Wharton made a big play, blocking a punt to give us good field position.
I think that we all still need to be extremely proud of each of the players on this team. These are high character guys that have not and will not give up fighting and practicing very hard during the week. These guys put 12 months a year of hard work into this program and deserve everyone's respect.
This week we will be playing a rejuvenated Lafayette team. Like a lot of teams in our league, they struggled in their non-conference schedule, but are playing their best football now. They defeated Holy Cross last week, are tied for first place in our league and will, rightfully so, be coming in here very confident. Over the last three years, our games with Lafayette have been very close, creating a rivalry. I know there seniors will have a chip on their shoulder, after what Lafayette's Head Coach Frank Tavani characterized as three "ridiculous-style" losses to us. We're looking forward to getting back on the field and trying to execute in all three phases of the game.
This will also be a very special week, as we honor 24 seniors, who have put their heart and soul into the Georgetown football program. These guys have been pleasure to coach and we hope as many of you will be at the game on Saturday to give them a proper send-off.
Finally, I wanted to mention former Hoya Janne Kouri has continued doing great things, as they held a benefit for NextStep D.C. last Thursday. Janne has been a friend and an inspirational figured for this program and we wish him the best in bringing NextStep Fitness to D.C. For more information you can visit nextstepfitness.org.
Win the Day!

Coach Kelly