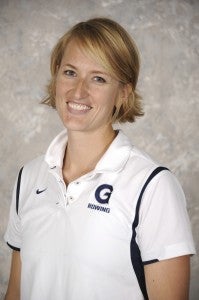 Greetings from Georgetown Women's Rowing! After three weeks off the water due to the government shutdown, the Hoyas got back in boats in Boston at the Head of the Charles and on the Potomac this past weekend. A more detailed report with results can be found here.
The shutdown kept us pretty busy training indoors and busing to the Anacostia on the weekends, launching off a public dock near the Nationals Stadium. Thankfully, we had a strong start to the season before the shutdown across the board at the Head of the Potomac: the lightweights crushed it with a second-place finish in the Open Four Event and the Varsity Openweights won and finished third in the Open Women's Eight, beating the GW V8 and 2V8 boats, respectively.
The girls handled the time indoors well: they saw the silver lining (focus on fitness) and got through in their typical way: just get to work and have fun! We have a very tall and very athletic group of freshman, both walk-ons and recruits, who also weathered this time well. Assistant coaches Steve Full and Jen Forbes are doing a fantastic job of developing this group and their first 6K erg test was our best yet.
The Head of the Charles was a great way to get right back into our time on the water. Both crews (Varsity Eight and Lightweight Four) handled some tricky course maneuvers and the typical Charles chaos really well. It's so fun to work with a more resilient, confident and experienced group. We obviously wanted to improve on our finish from last year (25th) and move into that top 20, but with the past month off the water, we needed to do our best and keep it in perspective. While we had the same numerical finish, we handled the pressure and executed better than in previous years. Full HOCR results can be found here.
Beating the other Patriot League schools in that event (Navy, MIT and Holy Cross) was a good measure of how we are progressing this year toward our competitive goals of winning the conference championship. For the openweights, our focus remains on winning the Patriot League title, as this is now the route to an NCAA berth. As the former Big East has transitioned, we are now associate members of the Patriot League. In that light, I was particularly excited to see us just behind Boston University (22nd place, ahead by 15 seconds), the only Patriot League school to finish ahead of us.
For the lightweights, being in the mix with their usual competition is nothing new, but they have nailed race day twice so far this year, which was definitely a challenge for us in previous years. We are excited to see how they progress.
For more frequent and up-to-the moment updates, like us here on Facebook and follow @HoyaRowing on Twitter.
Never Row,
Miranda Paris
Head Women's Coach