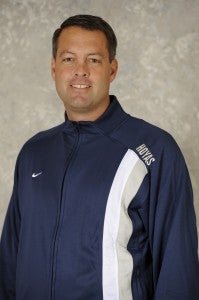 Georgetown Soccer Family,
As a coach, it's always interesting to see how a team responds to a loss. Another loss can be seen as the beginning of a slump, and a win can be a sign of resilience. After we had to marinate in a loss for a full week, the boys responded with arguably our best performance of the season, and we dismantled a very good Butler team on Saturday, 4-1. Some beautiful goals, mixed with some scrappy ones, capped off some nice sequences. In the end it was the attacking trio of senior Steve Neumann (2 goals and an assist), sophomore Brandon Allen (1 goal), and freshman Alex Muyl (1 goal and an assist) that produced all four goals. It was a game where each player on the field put in a good performance, and handled a lot of details right. It was also the first start of the season for senior center back, Ted Helfrich, who filled in admirably for injured freshman Joshua Yaro. The highlights for the match can be seen by clicking: Georgetown v Butler Highlights
We now have to turn our attention to DePaul for a midweek tilt here at the Hilltop. It's the time of year when the strain of midterms and papers can show on the faces of the boys. They've handled them well so far, and we'll see if we can come out with another good performance tomorrow with three important points at stake.
Youth is Served
Our young boys have been getting a lot of press this last week. Joshua Yaro was recently named the top freshman in college soccer by Top Drawer Soccer. Alex Muyl was #24 on that list: Top 100. Muyl was also named the Big East Rookie of the Week for his production against Butler. There was also a nice piece done on the youthful component of our team by College Soccer News: Bright Future.
Lending a Hand
This year we need to raise $105,000 with a big portion of those funds used to feed, transport, house and cloth the boys. We will continue to need your help to get to this goal! To give a tax deductible gift go to: GIVE TO GEORGETOWN SOCCER
I'll let you know how the DePaul game goes on Wednesday here on the Hilltop, and in the meantime, Go Hoyas!

Brian Wiese
Head Coach, Men's Soccer