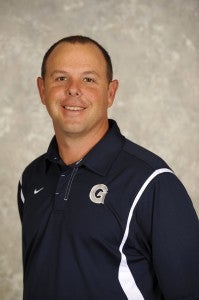 As we head into the home stretch of fall ball, I wanted to send out an update on the happenings here on the Hilltop. We started the fall season off with a Friday night scrimmage against Navy, playing a full game and an additional period. Following the scrimmage the alumni stepped back onto the field, ready to play. Unfortunately, or fortunately for some, the lights went out on us early (halftime) but a good time was had by all and it was great to see everyone again. 
A big thank you
 to all of those who made their way back to the Hilltop, and special thanks to Jackie Proch for her continued efforts in maintaining contact and distributing information.The following night at the annual banquet, we honored the 2013 team and welcomed back last year's seniors. Last year's awards winners, as voted on by members of the team, were announced and recognized:
Most Improved Player
– Casey McGowan
Sheehan Stanwick Rookie of the Year Award
– Corinne Etchison
Denis Kanach Unsung Hero
– Dina Jackson
Bulldog Award
  – Adrianne Devine
Kim Simons Coaches Award
– MJ Coyle
Most Valuable Player
– Ashley Hunter
Chris Joyner 13th Man Award
– Cristina NistlerSince then, we have had two play days, competing against seven different teams. The days have allowed the coaches to put different combinations together and give everyone a chance to compete against top notch opponents with different styles. The highlight thus far was the last game at the Navy Tournament when the Hoyas took on Team USA. Despite the weather, the Hoyas played with tremendous energy and gave the US all it could handle. What a great way to head into Fall break.Thanks you for all of your support, we look forward to staying in touch and seeing you sometime this season at home or on the road!
Hoya Saxa,

Ricky Fried
Head Coach, Women's Lacrosse