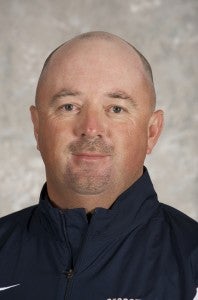 It was "Back to Business" for the girls this past weekend as we rebounded from our disappointing loss at Marquette. On Thursday, we faced off against a very good St. John's team who were led by the nation's top scorer, in Rachel Daly. The Red Storm gave us some scares early on but with some great defensive play, led by Emily Menges, we came alive and won by a comfortable 4-0 scoreline. We had some great performances on the day, in particular Emily and Emma Newins who made a couple of huge saves to deny Daly some scores.
On Sunday, we hosted Creighton University for the first time and we played very well on both sides of the ball. The final 4-0 scorelines was fair and the girls played really well. On the day we got another great performance by Kailey Blain and also Vanessa Skrumbis who scored a couple of key goals for us. This leaves us second in the conference and while we still hope to catch Marquette with two games remaining, we are determined to finish in the top two which will put us straight into the Big East Tournament Semifinals. However with two tough games left, at Villanova on Sunday, (10/27) and then home to Seton Hall for Senior Day, (11/2) we know it won't be easy. I do know that this group will come ready to play for both games and they are excited for the rest of the season and beyond.
We continue to receive national respect in the soccer polls and currently are ranked #15 NSCAA, #11 Soccer America, #8 Top Drawer and most importantly we sit # 6 in the NCAA RPI.
Thank you again for all your support and I hope that we get to see you at a game soon.
Dave


Dave Nolan, Head Coach Women's Soccer