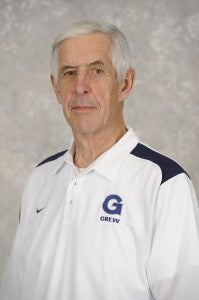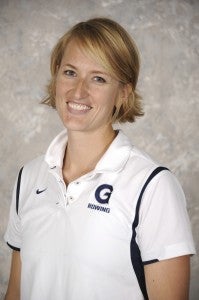 Greetings from the Hilltop! Lots of info to share.Another autumn in Washington on the river is upon us. All squads got off to a good start as upperclassmen and men and women's recruits reported ready to go and the on-campus recruiting of freshmen produced very good results. While the quantity and quality of athletes new to the sport are strong, there's a lot of teaching still to do.One hitch so far: Thompson's boathouse was closed for over two weeks due to the federal government shutdown. Thankfully, we have a new and expanded on-campus training facility that we used during the shutdown. On weekends, all squads bused to a dock in southeast Washington and launched from there.  Unfortunately, the time commitment and logistics were just too difficult to do during the week. Thankfully, the impasse on Capitol Hill was broken two days ago.
Just prior to the shutdown, our varsity crews raced at the Head of the Potomac and performed well, including strong performances by the women. One of the highlights of the weekend was the dedication of a new women's shell named for the Courtin family (see attached photos). John '70 and Sharon '76, and their children, Christopher, Allison, and Katie '13, were on hand to christen the boat. It was a warm and wonderful occasion celebrated by many former rowers, current rowers, colleagues and friends of the Courtins.  Sharon was the leader of the effort to establish the women's crew as an undergraduate. John's efforts on behalf of rowing at Georgetown are legendary. Daughter Allison is a current assistant coach of the LW men and daughter Katie coxed the varsity LW men, graduating this past spring.
On Sunday, October 20, all squads will be sending crews to the Head of the Charles in Boston (
see attached race-day program
). In addition, three alumni boats will race on Saturday. You should have received notice about details of a Hoya gathering along the river on Saturday at noon.The weekend of November 8-10 is the Crew Anniversary Weekend celebrating 50 years of lightweight rowing. We hope you will consider joining us for this occasion. Here is a link to the website: 
Crew Anniversary
. At the Saturday lunch at noon, we will be dedicating a shell and a launch given to us by the Mahaney family. We are grateful to be able to recognize their generous gifts on this occasion. This weekend is being run by a group of volunteers. Please contact one of the leaders of the weekend below for more information.
We continue to track our equipment needs closely and, as always, the needs are imposing. While all squads are ever in need of racing and training eights, we are always cognizant of our collective need for fours and pairs, as well as the critically-needed launches and motors. We hope to replace some of this aging equipment during the current year.Thanks for your continued support. We hope to see you at one of our races this year.Never Row!

Tony Johnson
Head Men's Coach

Miranda Paris
Head Women's Coach