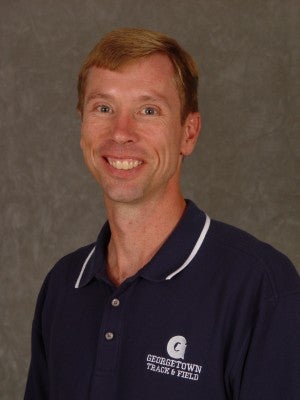 It always seems like the first few weeks of school and practice take forever, but then the racing starts and time seems to fly! We were happy to welcome all of our very talented and accomplished incoming freshmen to campus and get them up to speed as quickly as possible. The anticipation of a great year with a very talented and young group is quite exciting.
Men Win the Navy Invite
After practice on Thursday, the men's cross country team had a meeting. At the meeting  I specifically asked some of our upperclassmen, who have yet to contribute in cross country, to step it up and help this team this weekend and this fall. I am happy to report that these men answered the call and lead the Hoyas to a convincing win over some local rivals the Naval Academy and American. Running #1 for the Hoyas for the first time in his career was red-shirt junior Brian King who finished 2nd overall. It has been such a pleasure to watch Brian improve and develop over the years. Also scoring for the first time was redshirt sophomore Austin Gregor in 7th; redshirt junior Nick Rowe in 8th; and redshirt junior Matt Howard in 10th. Also showing great promise was true freshman Scott Carpenter in 18th. We decided not to race John Murray and Collin Leibold, both of whom should be strong contributors this fall. Redshirt freshmen Ryan Gil and Ahmed Bile went 1-2 in the JV race and should also be ready to be strong contributors by the time we get to the mid-season races. Our next meet will be the Paul Short Invite hosted by Lehigh University onOctober 5th. If you get a chance, please come out and support your Hoyas.
From Head Women's Coach Mike Smith
Our #6 ranked women's cross country team is off to a great start! We traveled 16 Hoyas to the Dartmouth Invitational and raced 12. For seven Hoyas it was their first Georgetown cross country race, which was a great occasion. We did not race four of our top runners (All-Americans Katrina Coogan, Maddie Chambers, and Rachel Schneider, and US Junior XC team member Samantha Nadel), however still came home with a victory at the meet.
Two redshirt freshman, Haley Pierce and Rachel Paul led us in their first college XC race, which is exciting when looking to our future. What was interesting is that from one year ago, on the same course, we had seven runners faster than our #1 runner last year (Rachel Schneider).
Everyone is healthy and training has been going very well. We have good competition in both our conference and region, so nothing will be handed to us on our road to NCAA's, but this group is ready for that challenge.
We'll race a complete lineup at the Paul Short Invite in three weeks! If you're nearby please come out, we'd love to see you at the meet! Thanks for all your support!
——–
We had a record setting fundraising year for the Spiked Shoe Club and would like to set the bar even higher for this year.  We need some fast lead-off legs to get this year's fundraising off to a fast start!
Hoya Saxa!
Patrick Henner, Director of Track and Field/Cross Country