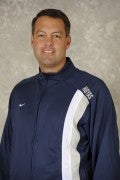 We wanted to test our team early this year, and the opening weekend at the Indiana Credit Union Classic did just that.
On Friday night, we played the host Indiana Hoosiers, in front of 5,000 highly engaged fans. The game was played at a cracking pace, and I was happy with how much of the game we were able to control. Unfortunately, we went down 1-0 against the run of play midway through the first half. In a lot of ways, losing that goal settled the team down, and I thought we started playing very well from that point on. The second half started particularly well for us, and we were rewarded with a tremendous goal from junior forward Brandon Allen off an assist from sophomore forward Alex Muyl. Allen had an exquisite turn on the top of the box before hammering home the equalizer inside the far post. Muyl caused IU trouble all night long, and just a minute after Allen tied the game, Muyl got in behind the Hoosier defense, but was denied by the inside of the far post. The game-winner never materialized, and we had to settle for a hard fought 1-1 after the two overtime periods.
The next test of the weekend came just 36 hours later when we had to line up against my old mentor, Bobby Clark, and his Notre Dame squad for an 11:30 a.m. kickoff. Notre Dame is the defending national champion, and currently ranked #1 in the country, and the match was as tightly contested as any I've been a part of. It took about 35 minutes before we generated any real threat against their highly disciplined group, but after that initial period we had more than enough opportunities to win the game. Muyl headed a corner off the post; Allen had a sitter from six yards out that the Notre Dame goalkeeper made the save of the weekend on; sophomore forward Brett Campbell had two headers inside the six that he couldn't quite convert in overtime; and the Irish goalkeeper reacted well again on Muyl's point blank effort in overtime. While the chances were golden, Notre Dame had a few of their own, and the 0-0 tie might have been the fairest result on the day.
Both of these games were against excellent opponents, and had playoff type feels to them. The boys grew up a little more over the weekend as a result, and I'm hoping the experience will serve us well moving forward. After two 110 minute games over the three day span, we'll spend a couple of days getting our legs back under us to prepare for our home opener against Harvard on Friday. It will be great to finally get a game on Shaw Field in front of some friendly fans!