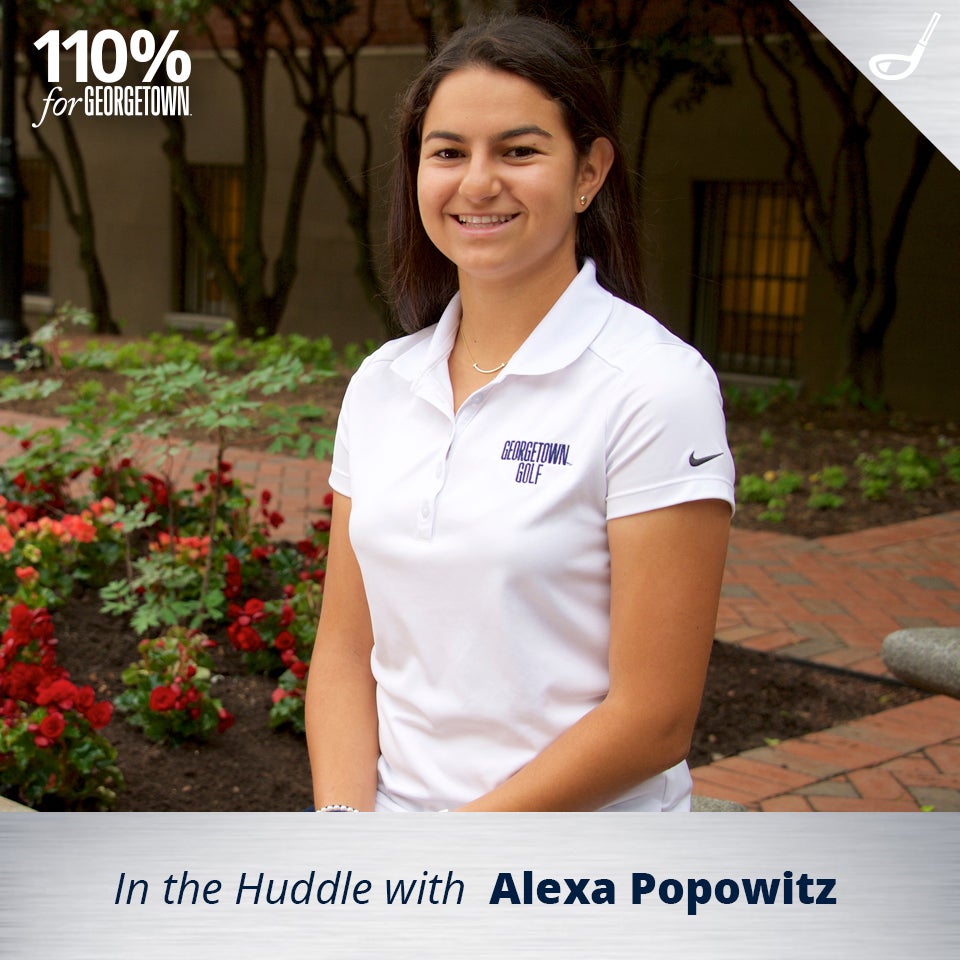 Alexa Popowitz has had a strong start to her sophomore year, named co-BIG EAST Golfer of the Week with teammate Christina Parsells after a strong showing at the Ron Moore Women's Intercollegiate. As a freshman, Alexa had five top-20 finishes and a 77.60 stroke average leading her to being named BIG EAST Freshman of the Year and an All-BIG EAST Second Team selection. Let's go In the Huddle with Alexa!
Why did you choose to come to Georgetown?
I chose Georgetown because of the great academics and location it has to offer.
What are your team goals?
I would love to win the BIG EAST and make it to the NCAA Regional Tournament!
How do you give 110% for Georgetown?
I give 110% in the classroom by trying to participate as much as I can and going to office hours. It is hard to keep up with school on the road so by going to office hours and participating in class I am able to get the most of the classes I am able to attend.
What is a favorite experience of yours at Georgetown?
I love going to basketball games and exploring DC.
What would you like to say to donors of Georgetown Athletics?
I would like to thank them because if it was not for them the golf program would not be what it is today. We really appreciate them supporting us and giving us the opportunity to play the sport we love at the collegiate level.
Hoya Facts with Alexa Popowitz
My teammate that I admire most is: Patricia Lee – she just graduated but I admire her work ethic and personality!
My favorite holiday is: Thanksgiving because of the good food and being with my family
My favorite class at Georgetown has been: My first year business school seminar about the evolution of sports leagues
Something about me that would surprise my teammates: I can touch my tongue to my nose
My favorite trait of Coach Brophy's: Her personality
My favorite sport other than golf is: Football
My favorite place to eat in Georgetown is: Mate on the waterfront