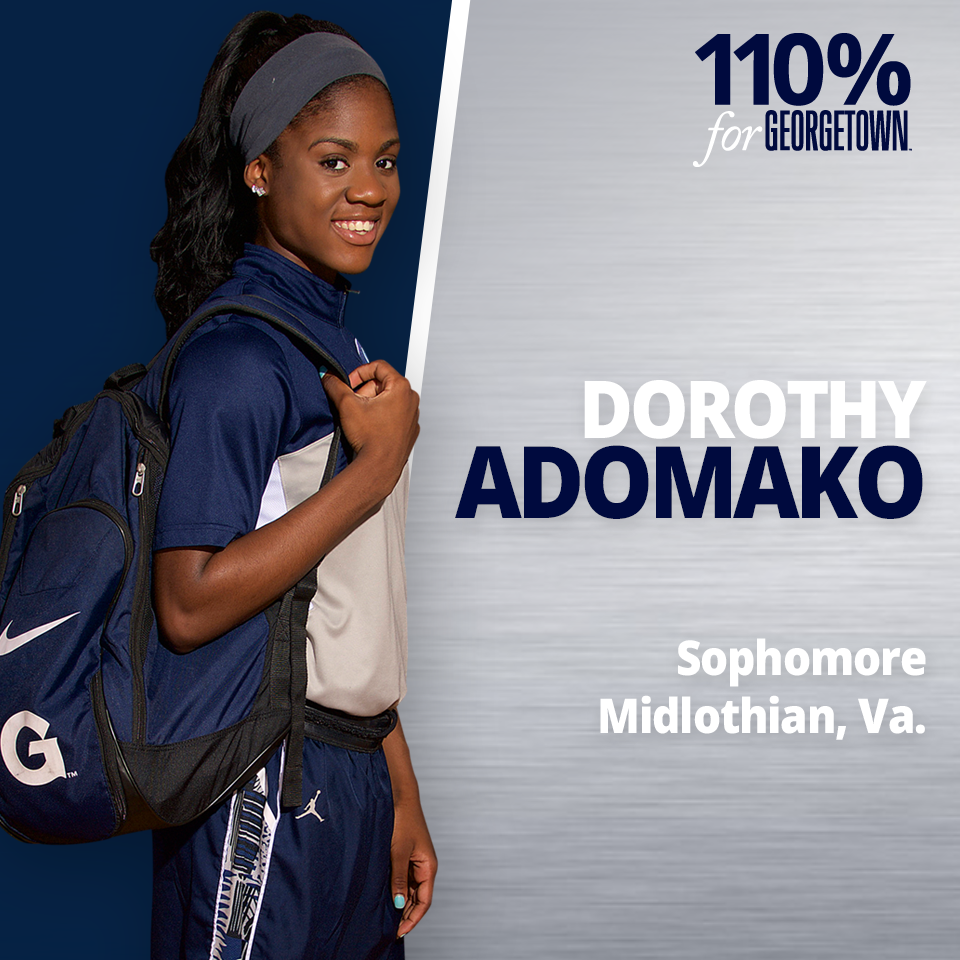 Dorothy Adomako earned All-BIG EAST Second Team honors in the 2015-16 season after being named Freshman of the Year last season as well being selected to the All-Rookie Team and Honorable Mention All-BIG EAST. She ranks second on the Hoyas with 14.4 ppg and leads the team with 6.3 rpg as the Hoyas head to the BIG EAST Tournament. Let's go In the Huddle with Dorothy!

What made you choose to come to Georgetown?
I chose Georgetown because it's one of the best universities for both academics and athletics. Georgetown has one of the best locations with a variety of things to do. I just felt like Georgetown was the perfect place for me when I took my first visit!
What has been your favorite team experience?
My favorite experience at Georgetown has to be from this past summer when we went to Italy and France with the team. It was beautiful and was a great bonding experience while being able to see different parts of Europe. Not only did we sightsee, but we also played three games against national teams. I'm so thankful for this opportunity that Georgetown has given to my team and I to see this part of the globe.
How do you give 110% for Georgetown?
I give 110% in the classroom, competition and the community because I spend a countless amount of hours everyday doing one these things. I never know who's watching, so I'm doing what I have to.
What volunteer work do you do as a team?
Our recent community service have been at the Washington Literacy Center, The White House Easter Egg Roll, and helping teach little kids in Italy play basketball. It's in a honor for our team to give back. We are truly blessed and grateful for the opportunity that we have.
Hoya Facts with Dorothy Adomako
My major is: Psychology
My teammate I admire most is: Jodi Ramil
My favorite movie is: Love & Basketball
Something about me that would surprise my teammates: I was a tennis player before focusing on basketball
My favorite class at Georgetown: Intro to Computer Science
My favorite place to eat in Georgetown is: Anywhere on the waterfront
My favorite thing about Coach Adair is: She is always so positive!