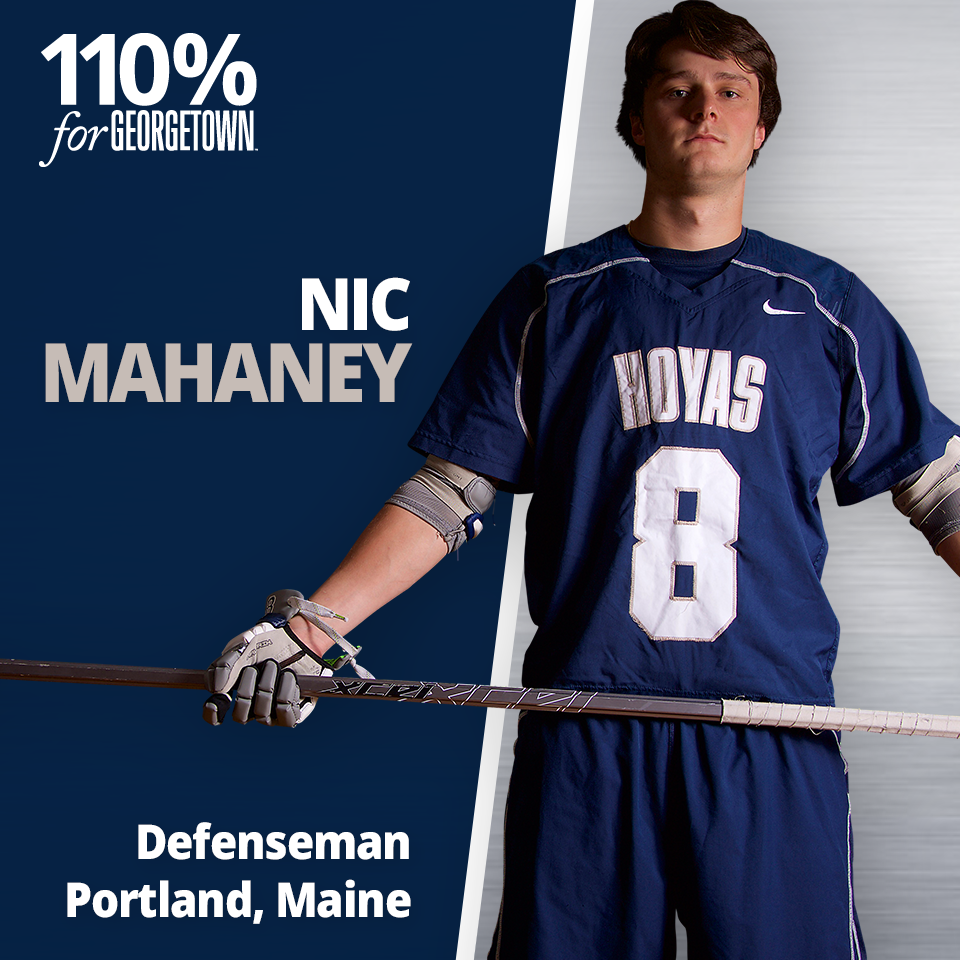 Named a team captain for the 2016, Nic has played in over 40 games as a Hoya, starting six at close defense during his junior season. Nic finished the 2015 season with seven ground balls and two caused turnovers, including a career-high three ground balls in a win over Hobart. Off the field, Nic has been named to the BIG EAST All-Academic Team for the past two years. Let's go In the Huddle with Nic!

What made you choose to come to Georgetown?
I wanted to find a school that would provide me with a great athletic experience, while also providing me the tools I need to develop myself as a student and person within the community.
What has been your favorite team experience?
My favorite experience as a Hoya would have to be when we volunteered at the MedStar Georgetown Pediatric Oncology Center to participate in the Easter Egg Hunt with the patients. It was simply a tightly knit group of friends having fun, while doing whatever we could to brighten the lives of the children there.
How do you give 110% for Georgetown?
The most prevalent moment of giving 110% for Georgetown is during our running of the exorcist stairs on early December mornings. Sprinting up the steps while barely seeing the step in front of you is frightening, but necessary in order for us to succeed.
What would you like to say to Georgetown Athletics donors?
Quite simply, thank you. By providing us with the facilities and equipment we use day in and day out, we are able to excel not only in athletics, but also in the classroom and throughout the community.
Hoya Facts with Nic Mahaney
My major is: Finance
If I could be any Georgetown alum, I would be: Allen Iverson
My favorite movie is: City of God
Something about me that would surprise my teammates: I have done studio art for the past ten years
My favorite holiday is: Thanksgiving because my family travels from around the globe to be together
My favorite class at Georgetown: Business-Government Relations with Professor Dennis Quinn
My favorite place to eat in Georgetown is: Stachowski Market & Deli
My favorite away game has been: Playing Dartmouth in Dallas, TX because I got to eat at Whataburger
My favorite thing about Coach Warne is: His passion for the game