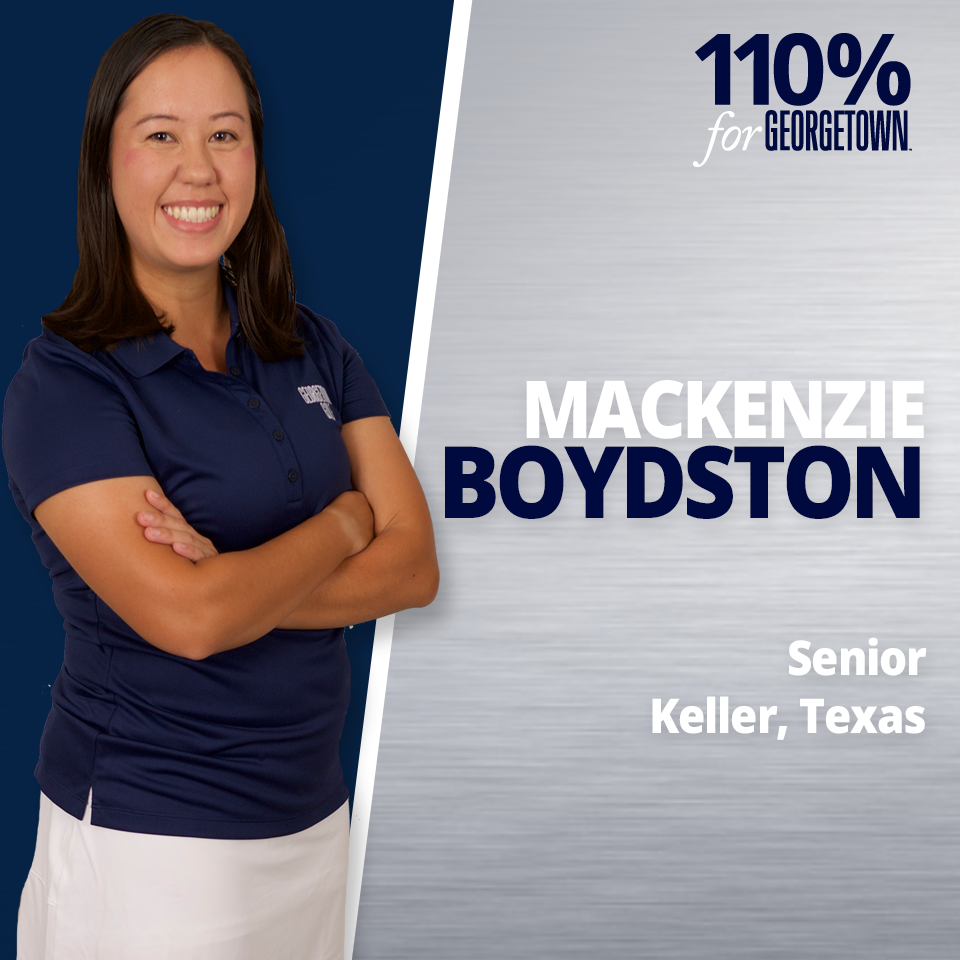 Senior co-captain of the Georgetown Women's Golf team Mackenzie Boydston concluded her incredible Georgetown career with her second career BIG EAST All-Tournament nod at last weekend's BIG EAST Championship. Mackenzie has also earned Academic All-BIG EAST honors during her time on the Hilltop and will graduate in May. Let's go In the Huddle with Mackenzie!

Why did you choose to come to Georgetown?
I chose Georgetown because it had the perfect balance between academics and athletics. Georgetown is a university that truly values being both a student and an athlete while upholding Jesuit traditions. I also sensed the immense school spirit at Georgetown the moment I walked on campus for the first time. This sense of family has proved true and I would never choose to be at any other school.
What has been one of your team goals this season?
One of my team goals for this year is to build a strong sense of community among the team. We have four freshmen this year which is a relatively large number considering the size of the women's golf team. It is important for our players at every class level to interact and unite under shared goals and visions to set the stage for a great season.
How do you give 110% for Georgetown?
One example of me giving 110% is my involvement with extra-curriculars at Georgetown. I am involved with several clubs on campus and have leadership roles in two of them. I am particularly involved with the Catholic Daughters of the Americas as a board member and also do community service with the group each semester as a way to give back to the homeless and hungry in DC.
What would you like to say to Georgetown Athletics donors?
I would like to thank each and every donor for their continuous support of Georgetown Athletics. I am incredibly blessed to be at a university that has so many supporters and wants our athletic programs to reach their full potential. Go Hoyas!
Hoya Facts with Mackenzie Boydston
My major is: Finance/International Business
If I could be any Georgetown alum, I would be: Bradley Cooper
My favorite TV show is: Friends
My favorite holiday is: Christmas – one of the few times during the year when I get to have my mom's cooking
My teammates would be surprised that: My guilty pleasure is reality TV
My favorite sport other than golf is: Baseball
My favorite place to eat in DC is: Ted's Bulletin
My favorite class at Georgetown is: Detective Fiction
My favorite event to play in has been: Vail, Colorado – scenery was incredible; playing on a golf course on a mountain was a once in a lifetime experience!
My favorite thing about Coach Katie Brophy is: Her enthusiasm she shows each and every round we play
The teammate I admire most: Patricia Lee – she has a positive attitude no matter what!