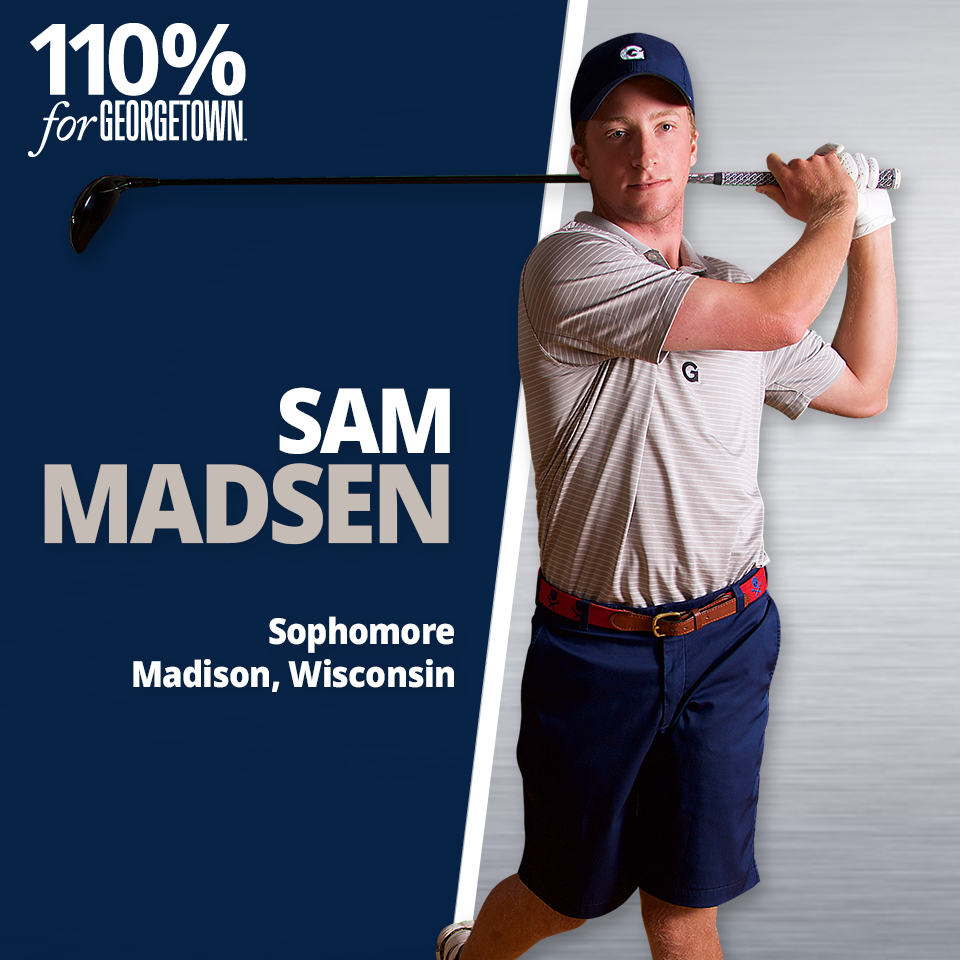 With Sam Madsen leading the way, the Georgetown University men's golf team captured its first BIG EAST Championship since 2010! Just a sophomore, Sam finished second overall at the championship, after finishing ninth overall as a freshman, and joined three other Hoyas finishing in the tournament's individual top 10. The Hoyas will now head to Franklin, Tennessee for NCAA Regionals that begin Monday, May 16. Let's go In the Huddle with Sam!

Why did you choose to come to Georgetown?
Georgetown's academic tradition is so strong that passing up on the opportunity to become a Hoya would have been a mistake. I was also confident that Coach Hunter and the rest of the team would help me reach my goals and aspirations.
What is your favorite team memory?
The first tournament of the year and my first college tournament definitely. I missed the team meeting at the hotel because I went to get a haircut which looking back on it was not my brightest moment, but it gave me a good story to tell and kind of broke the ice with the older guys on the team.
What would you like to say to Georgetown Athletics donors?
Especially for a sport like golf, the donors mean everything. I know that my experience at Georgetown thus far has been what it has been because of the golf team and because of that I am sincerely appreciative to everyone that helps make the golf team what it is.
Hoya Facts with Sam Madsen
My major is: Finance
The place most likely to find me on campus: Yates, early morning
My favorite TV show is: Entourage
My favorite holiday is: Thanksgiving – Food & Family
My favorite quote: "When you play, play hard. But when you work, work harder." -My Dad
My favorite sport other than golf is: Tennis and Hockey
My favorite place to eat in DC is: Team dinners at Leo's
My favorite class at Georgetown is: Religion in American Political Life
My favorite event to play in is: BIG EAST Championships considering the amount on the line
My favorite thing about Coach Tommy Hunter is: His loyalty for all of his players
The teammate who makes me laugh most is: Matt Moosavian