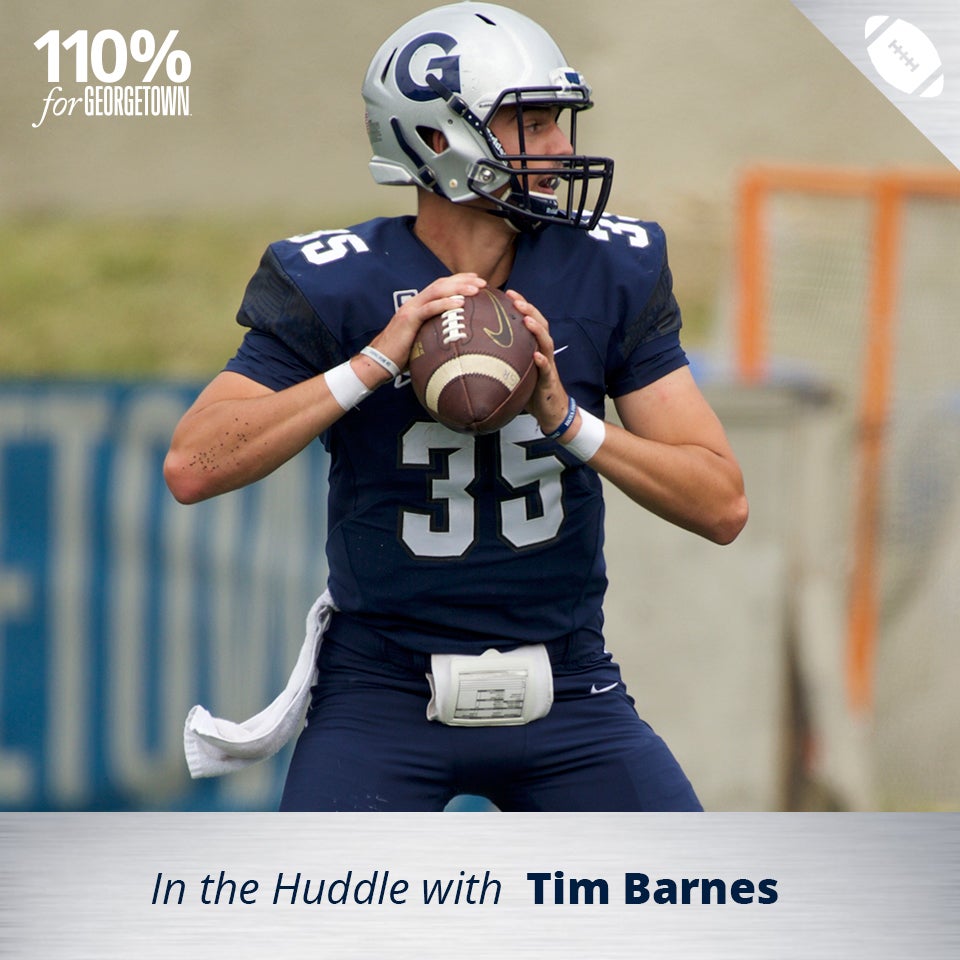 Selected as the No. 35 Joe Eacobacci Memorial Jersey recipient for the 2016 season, Tim Barnes is leading the Hoyas under the helm as quarterback this season. Through his first two games in 2016, Tim has posted a 121.3 quarterback efficiency rating, completing 61% of his passes with five touchdowns. Let's go In the Huddle with Tim Barnes!
Why did you choose Georgetown?
Coming out of high school I had broken my leg and most other schools had stopped recruiting me. Georgetown and Coach Sgarlata kept recruiting me and telling me that I was going to be alright. It meant a lot to me that they kept with me even though I was injured and didn't know what to expect in the process. The fact that Georgetown was there for me was a big factor, as well as the coaching staff and the offensive system. The school itself is among the best in the country which was just another reason why I chose Georgetown – to get the best education possible, while playing Division I sports.
How do you give 110% for Georgetown?
Student-Athletes give 110% for Georgetown because we know that we need the sports we play. Football is not an individual sport, we need one another on the team to help us in every aspect. From being on the field together to being in classes with one another. 110% is achieved by being unified with the brothers on your team and working with each other to impact the people in the community, and the community itself, in a positive way.
What has been your favorite experience so far?
The second game of this season was one of my favorite team experiences this year. After the first week, we knew we could play better and that Marist was a physical football team. The team played great and we came out with a win. I think that this experience of coming from behind and being able to win the game was not important for only the players, but for the coaches as well so they have the confidence in us players knowing that we are able to compete and win in tough situations. This experience brought us closer as a team and showed that we can rely on each other when our backs are against the wall.
What would you like to say to donors of Georgetown Athletics?
Thank you for all that you do for us. We would not be here without you and for that I am truly thankful. Your donations go a long way, and impact us directly. From the Thompson Center and Cooper field to even the smallest donation – it makes a difference and I want to say thank you for allowing us to have such a great experience here at Georgetown.
Hoya Facts with Tim Barnes
My teammate I admire most is: Ty Williams. Every day he inspires me to be the best I can be and will tell me, and the other members of the team, when we do not perform in practice or in the games in order to be our best.
My favorite holiday is: Christmas – my family always gets together and we have family dinner. My grandma makes manicotti, my favorite food.
My favorite movie is: Caddyshack
My favorite class at Georgetown has been: Calculus
The place you're most likely to find me on campus: Harriri Building (McDonough School of Business)
My favorite sport other than football is: Golf
My favorite quote is: "Good is not good when better is expected." – Vin Scully