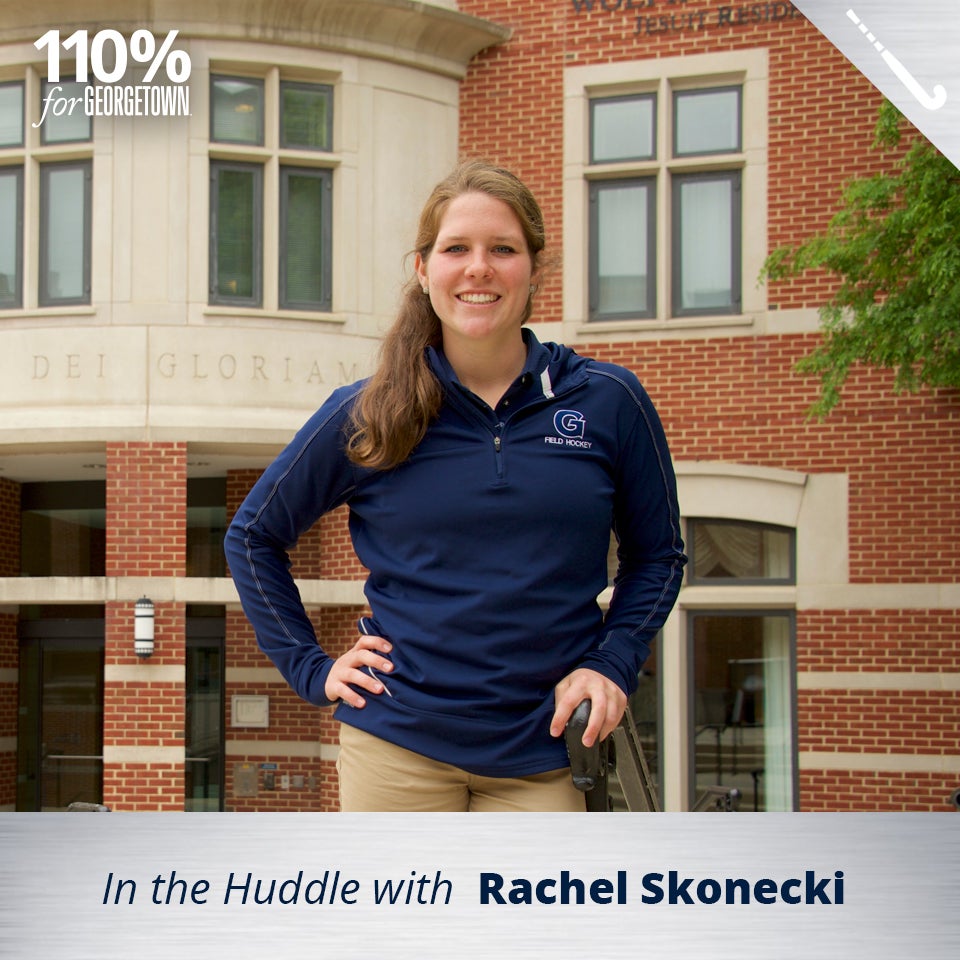 As a senior, Rachel Skonecki has made her presence felt as a netminder through her career on the Hilltop. Rachel has posted 10 or more saves in a game four times this season and 14 times in her career. With Georgetown's win over Longwood, Skonecki moved into fourth place in school history with her 18th career victory, tying her with Mary Allys Heeg (1982-84). Skonecki is also ranked in the top five in saves, save percentage and shutouts. Let's go In the Huddle with Rachel!
Why did you choose Georgetown?
I chose Georgetown because of the unique opportunity to play Division I field hockey at a academically rigorous institution. I valued how the athletic department embodied Jesuit values, and I knew I would thrive in an environment where I was cared for as a person and more than just a number on a roster.
What has been a bonding experience for your team?
An experience that brings the field hockey team closer is our annual beach retreat during the beginning of preseason. We take a day and a half to work entirely on culture and ensure that each teammate, regardless of class, knows they are a valued member of our family.
What volunteer work do you do?
Every year a few people from the field hockey team volunteer with other student-athletes at the Wreaths Across America event at Arlington National Cemetery. It is an incredibly powerful experience to honor our country's veterans with wreaths around the holidays.
How do you give 110% for Georgetown?
I have made Dean's List, Second Honors, or First Honors every semester at Georgetown, and I have also mentored younger athletes to build their leadership at Georgetown.
What would you like to say to donors of Georgetown Athletics?
Thank you! Your support is incredibly appreciated and we could not compete to the best of our abilities without your help.
Hoya Facts with Rachel Skonecki
My major is: Health Care Management
If I could be any Georgetown alumnus, I would be: President DeGioia
My favorite movie is: Remember the Titans
My favorite holiday is: Thanksgiving; it is the only time my entire extended family is able to be together
My teammate who I admire most is: Hailey Vann- she is the complete model of what it means to be team-first
Something that may surprise my teammate is: As a child I had a giant millipede as a pet
My favorite quote is: "I have never let schooling interfere with my education" – Mark Twain
My favorite thing about Coach Soares is: Her ability to demand the best out of me as a player, but care for me completely off the field
My favorite place to eat in Georgetown is: Thomas Sweets